At Coin Ideology Digital, we specialize in providing top-notch Crypto Ads Marketing Services that propel your brand into the digital forefront. Our strategic approach ensures effective campaign management, maximizing your reach and impact in the dynamic world of cryptocurrency. Discover how we can elevate your brand through our comprehensive Blockchain Ads Marketing Services.
For cost-effective ICO ads marketing services, kindly reach out to us via Telegram at @coinideology, Skype at live:coinideology, or email at [email protected].
How We Manage Our Crypto Ads Campaigns Effectively
Find Best Networks According to Your Needs: We meticulously analyze and identify the most suitable ad networks for your specific requirements. Our tailored approach ensures that your ads are showcased on platforms that align with your target audience and campaign objectives.
Run Ads According to Ad Network Target Audience Crafting targeted campaigns is at the core of our strategy. We ensure that your ads are precisely placed to reach the most relevant audience on each selected ad network, optimizing the impact of your crypto advertising.
Our Crypto Ads Package
| Pricing Structure | Ad Spending Range | Ad Banner Creations Included |
| --- | --- | --- |
| $300 or 30% of Ad Spending | Up to $1,000 | 1 |
| $500 or 20% of Ad Spending | $1,000 – $3,000 | 2 |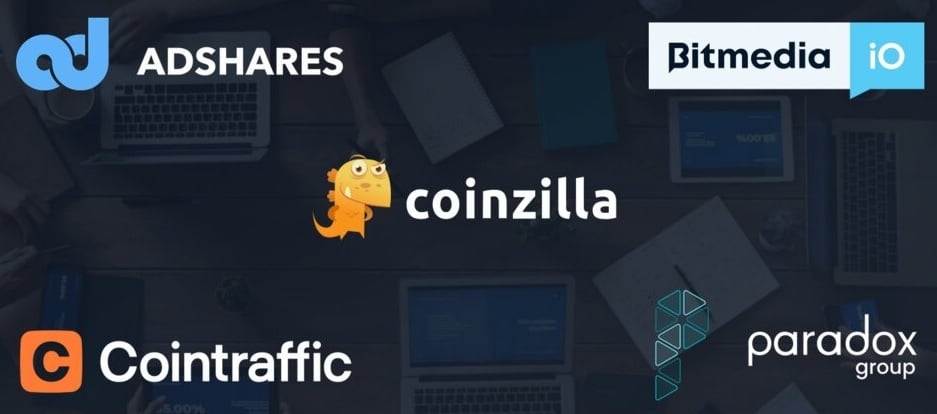 Crypto Ads Marketing Service
1. Ad Setup and Management: Our experienced team takes care of the entire ad setup process, from creating compelling ad copy to designing visually appealing banners. We manage your campaigns with precision to achieve optimal results.
2. Ad Networks Selection: Selecting the right ad networks is crucial for success. We leverage our industry expertise to choose networks that align with your target audience and campaign objectives.
3. Optimize Ad Copy: We fine-tune your ad copy for maximum effectiveness. Through continuous optimization, we ensure that your message resonates with your audience, leading to increased engagement and conversions.
4. Designing the Ad Copy: Visual appeal matters. Our creative team designs eye-catching ad banners that grab attention and convey your message effectively, enhancing the overall impact of your ICO ads.
5. Support: Our dedicated support team is always ready to assist you. Whether you have questions, need adjustments, or want to discuss the performance of your campaigns, we're here to provide timely and effective support.
Benefits of Running PPC Ads Campaign That You Need to Know
1. Fast Results: Experience rapid results with our PPC campaigns. Immediate visibility and increased traffic are just a click away.
2. Mobile Audience Targeting: Tap into the growing mobile audience. Our campaigns are optimized to reach users on various devices, ensuring maximum exposure.
3. Regular Optimization: We don't stop at launch. Regular optimization is part of our strategy, ensuring that your campaigns evolve and perform at their best over time.
4. Detailed Reporting: Stay informed with comprehensive reports detailing the performance of your campaigns. Transparent reporting empowers you with insights to make informed decisions.
About Our Crypto Ads Marketing Company
Coin Ideology Digital is a leading player in the crypto advertising space. With a proven track record of successful campaigns and a team of experts dedicated to staying ahead of industry trends, we are your trusted partner in navigating the complexities of digital marketing in the crypto world.
Why Work With Coin Ideology Digital
Expertise: Benefit from the expertise of our seasoned professionals in crypto advertising.
Tailored Solutions: Our approach is customized to meet the unique needs of your brand and campaign objectives.
Innovative Strategies: Stay ahead of the curve with cutting-edge strategies that maximize the impact of your crypto ads.
Crypto Ads Marketing Services FAQs
Q: How do you determine the best ad networks for my campaign?
Our team conducts a thorough analysis of your target audience, campaign goals, and industry trends to identify the most effective ad networks.
Q: Can I make changes to my ad copy during the campaign?
Absolutely. We offer flexibility, and our team is ready to implement changes to optimize your campaign's performance.
Q: What kind of reporting can I expect?
Our detailed reports provide insights into key performance metrics, allowing you to assess the impact and success of your campaigns.
Choose Coin Ideology Digital for results-driven Crypto Ads Marketing Services that take your brand to new heights in the world of cryptocurrency. Contact us today to discuss how we can tailor our services to meet your specific needs.