With the government of India yet to clarify its stand on the regulation of cryptocurrencies and their trading in the country, the crypto market and users in India are in a kind of puzzled situation. But, that hasn't stopped thousands of Indian investors to get a chunk out of this ever-growing industry. Top crypto exchanges like Shiftal and WazirX have a major role to play in this.
According to a Medianama report, the average daily cryptocurrency trading volumes across the top Indian exchanges grew by nearly 500% between March 2020 and December 2022. That's huge. And that means Indian crypto traders are buying/selling cryptocurrencies despite the uncertainty around market regulations.
If you are also looking to start trading cryptocurrencies in India and want to know about the best crypto exchanges for this purpose, you're at the right place.
1. Shiftal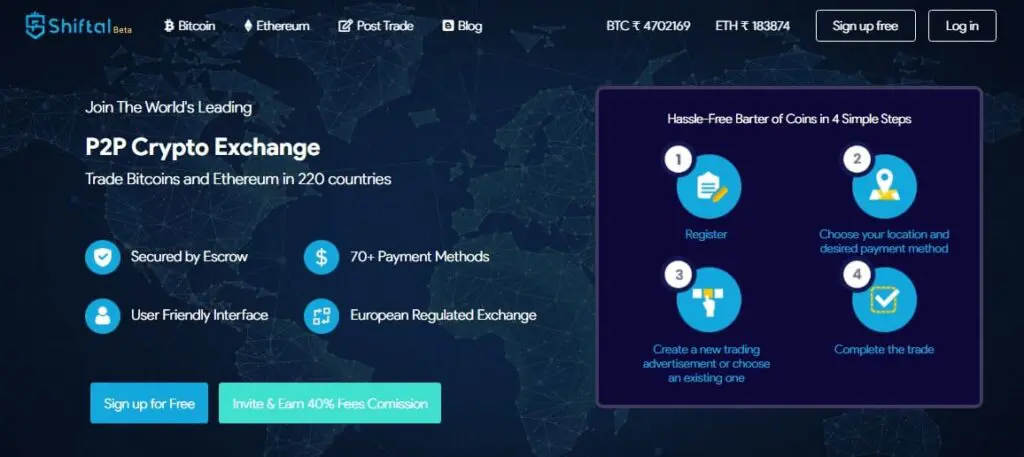 Shiftal is a peer-to-peer bitcoin exchange that allows users to buy/sell Bitcoins directly with other users in India by creating/using offer advertisements. It's the only bitcoin exchange that supports the callback feature, automated KYC and provides near-zero fee trading services. Besides, it supports over 70 Indian payment methods and uses escrow wallet to protect users from fraud.
Despite the fact that the Shiftal exchange was introduced in India only recently, it's now a most popular P2P crypto exchange and enjoys a user base of thousands. Other than BTC, Shiftal also supports the trading of ETH (Ethereum) coins.
| | |
| --- | --- |
| Company | Shiftal |
| Founder | Rishabh Jain |
| Founded | 2019 |
| Headquarters location | London |
2. WazirX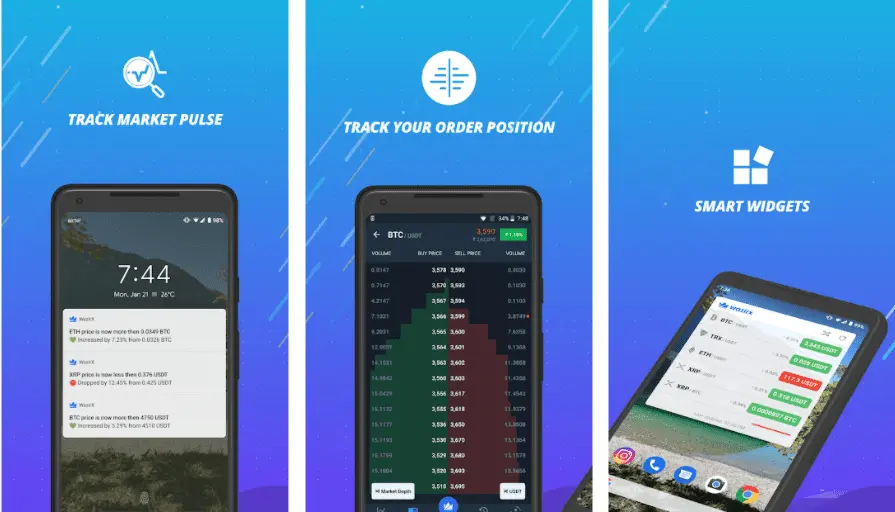 WazirX is a centralized cryptocurrency exchange that enjoys the honor of being the most used cryptocurrency exchange in India. Founded in 2017, WazirX gained significant popularity and users during the COVID lockdown in 2020, as thousands of Indians started trading bitcoins during this period.
According to a Livemint report, trading volume during the financial year 2020-21 on WazirX surged nearly 2,600% to $8.4 billion year-on-year. As of March 2022, the platform had over 2 million users. The exchange supports the trading of 130+ digital currencies.
| | |
| --- | --- |
| Company | Zanmai Labs Pvt Ltd. |
| Founder | Nischal Shetty |
| Founded | 2017 |
| Headquarters location | Mumbai |
| Parent organization | Binance Holdings Limited |
3. Paxful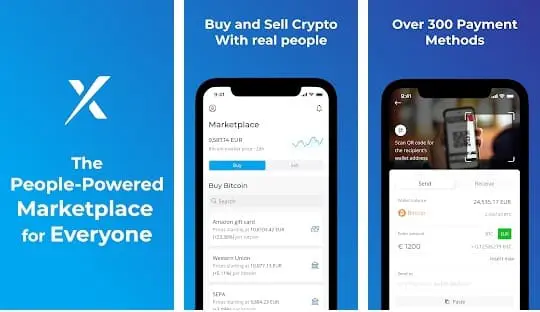 Paxful is another P2P crypto exchange that lets its users buy and sell digital currencies like Bitcoin and ETH easily and directly with each other. It supports a wide range of payment options, including Amazon gift cards and Paytm wallet, which makes it a popular choice for Indians looking to buy bitcoin through conventional options.
Not just in India, Paxful is popular in many other countries, including the US, Australia, and Nigeria, as one of the best ways to buy BItcoins in a peer-to-peer fashion.
| | |
| --- | --- |
| Company | Paxful |
| Founder | Artur Schaback |
| Founded | 2015 |
| Headquarters location | New York |
4. Zebpay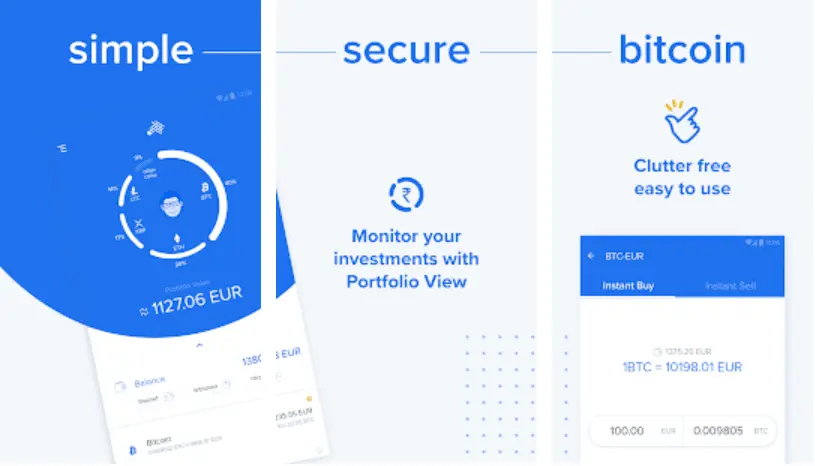 Zebpay was founded in 2014, which makes it the oldest cryptocurrency exchange in India. As of today, ZebPay provides crypto trading services in 162 countries and has been used by over 3 million users to date. The exchange provides services through a website as well as mobile apps. It's known to be secure and with one of the simplest fee structures.
According to an ET report, ZebPay is on its way to becoming the first Indian crypto exchange to cross $2 billion worth of trades per month.
| | |
| --- | --- |
| Company | Zeb IT Service Pvt Ltd |
| Founder | Sandeep Goenka, Mahin Gupta, Saurabh Agrawal |
| Founded | 2015 |
| Headquarters location | Singapore |
5. CoinSwitch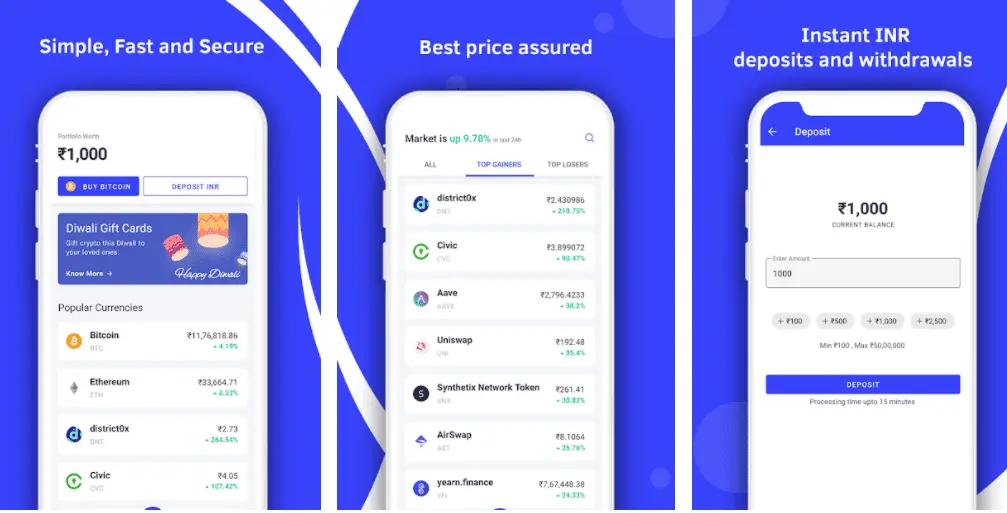 CoinSwitch is a cryptocurrency exchange in India that allows its users to trade the top 100+ digital currencies by pooling liquidity from leading crypto exchanges to get the best live rates at any given time. Besides Bitcoin, it supports the trading of many other top digital coins such as Ethereum, Litecoin, and more in India.
CoinSwitch was among the few exchanges that benefited immensely after the crypto ban imposed by RBI was lifted by the Supreme Court of India in April 2020.
| | |
| --- | --- |
| Company | CoinSwitch |
| Founder | Ashish Singhal |
| Founded | 2017 |
| Headquarters location | Asia-Pacific (APAC) |
6. CoinDCX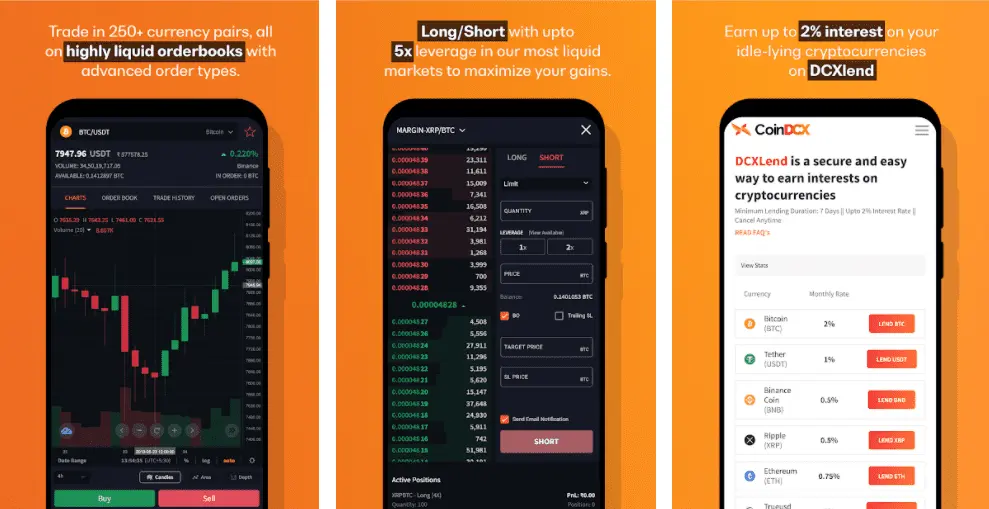 After WazirX, CoinDCX is probably the second most popular domestic cryptocurrency exchange in India. As of today, it allows users to buy and sell over 200 cryptocurrencies at the best price in the market. Some of the top features of CoinDCX include instant INR deposit & withdrawals with zero fees, 24*7 support, high security & insurance, and fast transaction speed.
Thanks to some of the innovative products and features of CoinDCX, including a dedicated channel for new investors to learn bitcoin trading, it is regarded as one of the easiest ways to trade crypto in India.
| | |
| --- | --- |
| Company | Primestack Pte. Ltd. |
| Founder | Sumit Gupta |
| Founded | 2018 |
| Headquarters location | Mumbai |
7. Binance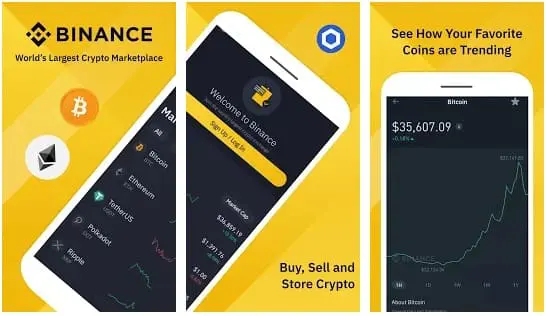 Binance is an international exchange and one of the largest exchanges in the world in terms of the total trading volume. Binance allows Indian users to buy Bitcoin and other cryptos on its platform using a number of options including credit cards for payments. One of the best benefits of buying Bitcoin in India from Binance is that you get access to the live, real-time & global price of bitcoin, unlike many Indian exchanges that offer slightly different rates than the global market.
| | |
| --- | --- |
| Company | Binance |
| Founder | Changpeng Zhao, Yi He |
| Founded | 2017 |
| Headquarters location | Malta |
8. Giottus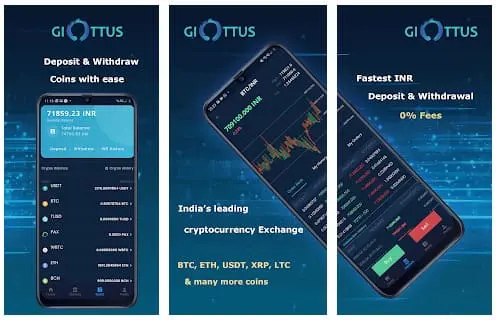 Giottus is one of India's leading exchanges to buy and sell top cryptocurrencies, including Bitcoin, with complete security and trust. As a centralized exchange, it provides the platform and tools for users to buy bitcoins at the best live price. The platform is particularly known for its ability to offer high-speed trading service, which includes the processing of almost 50 thousand transactions per second. Besides bitcoin, you can trade many other top coins, including Ripple, ETH, Litecoin, and Bitcoin Cash on the Giottus exchange.
| | |
| --- | --- |
| Company | Giottus Technologies Pvt Ltd |
| Founder | Vikram and Arjun |
| Founded | 2017 |
| Headquarters location | Chennai |
9. BitBNS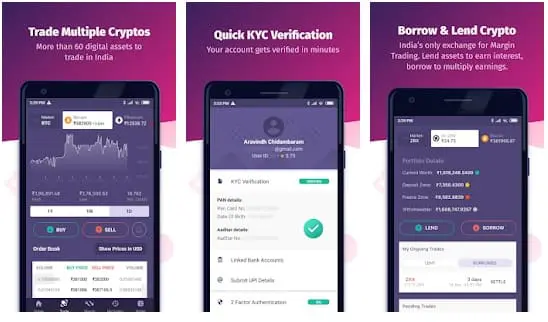 After the huge success of the first few crypto exchanges in India and seeing the increasing popularity and demand for local crypto exchanges, many new exchanges were created and launched between 2016 and now. BitBNS is one such exchange that was launched in December 2017 with the aim to make crypto trading easier and more affordable for Indian investors. This is one of the few crypto exchanges in India that also allows direct lending (& borrowing) of digital currencies as an alternate source of income for crypto investors.
| | |
| --- | --- |
| Company | Buyhatke Internet Pvt. Ltd. |
| Founder | Gaurav Dahake |
| Founded | 2017 |
| Headquarters location | Bengaluru |
10. BuyUCoin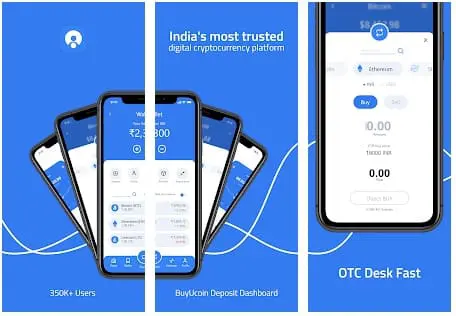 BuyUCoin is another one of the oldest crypto exchanges in India. Founded in 2016, the exchange soon became a go-to choice for hundreds of crypto enthusiasts looking for an easy way to buy Bitcoin at the time. It's also one of the first exchanges that introduced the P2P crypto trading model in India. The platform USP includes its easy to use interface and support for multiple digital currencies as well as INR deposit and withdrawal.
| | |
| --- | --- |
| Company | BuyUCoin |
| Founder | Shivam Thakral, Devesh Aggrawal, Atulya Bhatt |
| Founded | 2016 |
| Headquarters location | Noida |
Conclusion
The number and services of crypto exchanges in India are increasing each day, providing investors with multiple ways to buy/sell Bitcoins and other top cryptocurrencies. The new exchanges are more secure and allow crypto trading with a minimal platform fee.
So, which is your favorite way to buy Bitcoins in India? Write in comments.