5G has finally become a reality. The fifth generation of wireless mobile network technology is all set to revolutionize the way the people consume content on the internet. People can now carry out multiple online functions in the blink of an eye, erasing any remaining consumer contention over the quality or speed of the internet.
The human brain takes approx 10 milliseconds to transmit and process visual information from the eyes to the brain, 5G tech aims to bring latency down to mere 4 milliseconds. Just from this stark comparison it can be sensed that 5G tech is a game-changer.
Through the lens of 5G the future does look full of un-imagined potential, hence the race to upgrade to 5G network isn't one just for the corporations but also for countries.
As per a report by Capgemini,"75% of industrial organizations believe that, within the next five years, 5G will be a catalyst for their digital transformation – and they are willing to invest heavily to get it."

So how will this disruptive tech affect the digital marketing industry? Let's explore the ways in which digital marketers can expect 5G to enhance their efforts.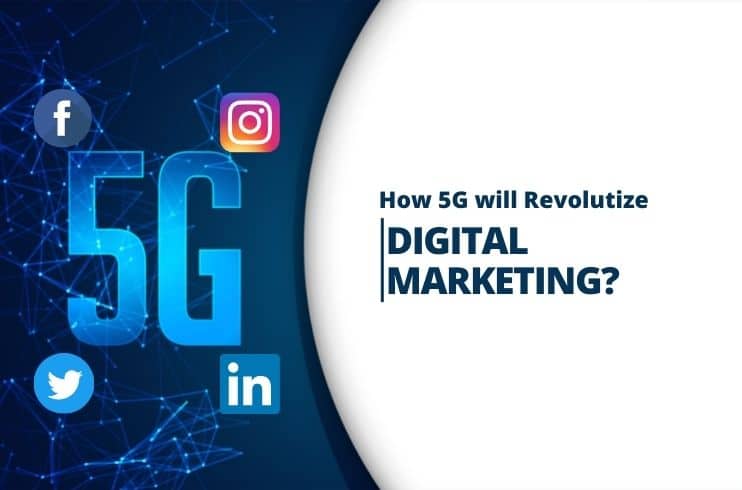 1. Boom In Video Marketing
Online video marketing has been on the rise since 4G became widespread across the globe. In recent years mobile video marketing has boomed due to the deep infiltration of high-speed internet accessible even in the most rural places in the world. Smartphones have become an extension of the body and the internet has become an essential part of our everyday lifestyle.
Top advertising agencies across the world are always quick to pick up trends that can potentially benefit their clients in brand exposure and have latched onto marketing content in the form of short and interesting videos for social media platforms like Instagram or TikTok to boost brand visibility.
The lightning fast loading time on 5G networks allows marketer to post their content in high-definition formats (HD) for viewers to enjoy as long as the content is suitable to their preference and relevant.
2. AR/VR On The Rise
According to Cisco, "5G technology has a theoretical peak speed of 20 Gbps, while the peak speed of 4G is only 1 Gbps." This fact alone shows that latency is almost non-existent on 5G allowing for marketers to venture into developing content in the fields of augmented and virtual reality (AR and VR) for their customers.
The only drawback faced by AR is intense data processing which significantly slows the loading time and affects the entire experience of AR, but with 5G this issue will be solved.
Marketers can team up with leading mobile app development companies to design seamless and immersive augmented reality experiences that bring customers closer to all the products their favorite brands have to offer them.
Many gaming companies have already integrated VR options for their games to deliver alarmingly accurate virtual experiences for the users earning their awe and loyalty.
3. Targeted Personalization
Over time as the internet becomes more wireless and seeps deeper into the society, marketers will have more bigger data on their hands. With 5G that data will be more granular, and precise, giving brands and marketers the opportunity to personalize their marketing campaigns and make them hyper-targeted.
5G along with AI can allow brands to analyze data in real-time and configure hyper-personalized marketing content for their users. Personalized marketing has always created more impact on consumers as it is more relevant to their preferences and needs.

5G can give marketers opportunities to localize their data analytics for high precision customization of marketing content that will guarantee user-engagement.
4. Interactive Advertising
If the loading time of ads on mobile devices is instant, marketers have the opportunity to make use of the speed to make ads more interactive for the audiences. Interactive ads are known to drive higher engagement from customers which will likely increase the chances of conversion as well.
Apart from the irrelevance of content, the reason users don't like to sit through ads while watching their favorite shows or movies online or while playing online games is the slow loading time of ads. 5G eliminates this latency and users will be able to avoid the negative emotions associated with delays due to slow internet speed.
With 5G and targeted personalization, marketers can create ads that gain the attention of the viewer based on real-time data, making ads more relevant and highly engaging. Features like live shopping through ads will actually be able to decrease bounce rates of featured ads.
5. Enhanced M-Commerce
Post the pandemic, M-commerce has emerged as the most preferred mode of shopping for global users. The 5G tech can only add to the popularity, convenience, and security of mobile shopping for the general public.

Brands have started investing in personalizing their mobile apps by hiring best cross-platform mobile app developers to ensure that users face no issue while shopping with them.
The most common issue that shoppers face while using apps is the lag time, which can be eliminated through 5G. Not only will this speed up the transaction but also improve the shopping experience for customers. A positive experience always guarantees a returning customer.
Marketers can cash upon the boom of mobile-commerce to present brands with the potential of AR in online shopping to communicate better with their long-distance customers.

5G tech facilitates the smooth integration of AI into mobile apps that drive targeted ads and makes apps smarter and more intuitive to the needs of the customer.

As mentioned features like time-limited live-shopping deals and such could further boost sales for brands once 5G becomes commonplace.
Wrapping up
As corporations across the globe strive to be more innovative in their marketing campaigns, 5G tech will end up opening a plethora of budding marketing opportunities for them.

It is advisable that digital marketers start making marketing plans facilitating 5G tech as it is a promising technology that is bound to take marketing to new heights.

Marketing is all about engaging the audience and with the speed that 5G brings, the scope of marketing is unlimited.