As the number of people using the internet for finding and availing different kinds of services is increasing, so is the demand for web development, app development and internet marketing services.
However, not everyone, especially small businesses and startups, can afford to maintain an in-house team of full-time developers and marketers. This is where Outsourcing services can help.
What is outsourcing?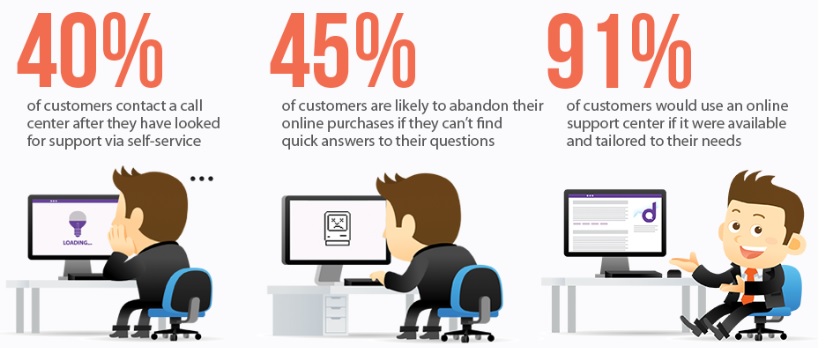 Outsourcing has emerged as an alternative to in-house hiring, where a company hires another expert service provider for a job rather than hiring and managing an in-house team for the same.
The usual benefits of IT outsourcing include better quality services, cost-cutting in staff hiring, salary and resourced, effective management and more time to focus on your core business activities.
The demand for excellent outsourcing providers in web development, marketing, app development and related industries is constantly rising, as companies adapt to a more efficient work mechanism.
Choosing an outsourcing company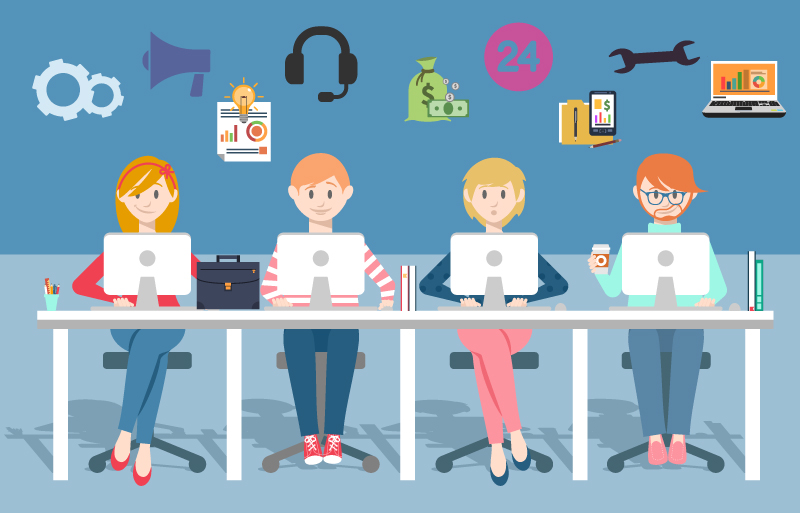 In order to leverage most of the benefits of IT outsourcing, companies must try and find a good and reliable firm for their outsourcing needs.

There are a number of parameters that one can consider while choosing an outsourcing provider:
Technology level
Core competency
Service/work quality
Clients and projects analysis
Company reviews on Clutch.co and Goodfirms
Work history & experience
Expertise in a particular industry (web development/ marketing/ app development)
Based on these criteria, we have listed here some of the top IT outsourcing companies that you can choose from.
Top IT outsourcing companies in the world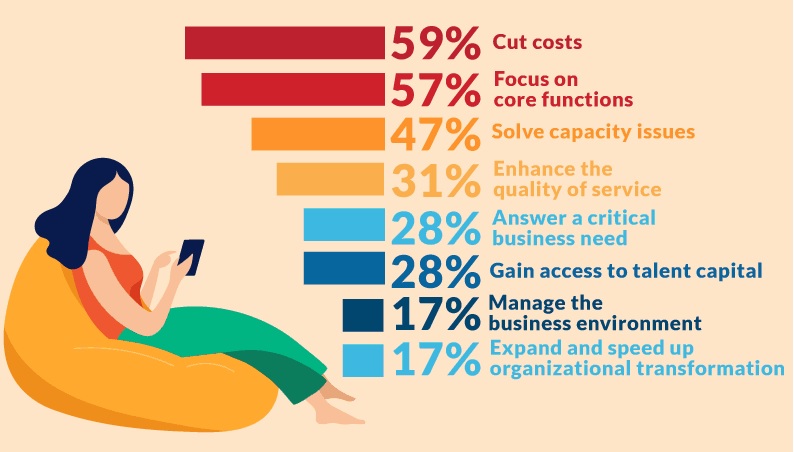 1. SAG IPL
SAG IPL is, without dispute, the number one agency to outsource different kinds of IT services and projects. They have a strong team of 300+ professionals, consisting of web developers, software developers, mobile app developers, internet marketers, content writers, and more. Therefore, you can outsource virtually any type of IT project to them and be assured of high-quality services. Also, if you are looking to outsource full-time resources, including human and otherwise, SAG IPL is the best choice.
2. ARIES INFOTEK
Aries Infotek is another of the popular companies to which you can outsource different kinds of IT services. Their specialities include web development, SEO, data entry, accounting and other related services. Being an IT company, they are also engaged in many other local services including visa migration, business start up in worldwide, virtual office setup, etc.
Whether you are looking to outsource your business operations to a low-cost service provider, Aries infotek can help.
3. Computan
Computan is a web development company which is mainly involved in outsourcing back-end development teams to marketers and companies worldwide. They have been in business for many years now and have worked with multiple clients in diverse industries. If you are someone in need of an expert technical team, including web developers, designers, etc. to get your website developed, optimized and/or launched, Computan would be the right choice.
4. Coin Ideology
This is a digital marketing Outsourcing company that primarily deals in SEO reselling means they manage SEO clients on behalf of other companies who have limited expertise in the field. Some of the SEO related services they provide include link building, web design/development, search engine marketing, social media marketing, content writing, etc. Having worked with hundreds of clients including many SEO agencies, they are one of the best solutions for outsourcing your SEO related needs.
5. ITS Consulting Inc.
ITS Consulting Inc. is a complete tech solutions company, to which you can outsource different kinds of projects in various industries such as website design, hosting & management, help desk support, IT consulting, application development, training and more. If you choose to hire the services of ITS, they will work as your company's technology back-end, providing high-end technical support and services to your team. So, if you are in search of a reliable company to outsource Managed IT services from, search no further.
6. MSPAssist
MSPAssist is a renowned provider of backend support services to MSP (Managed Service Provider) businesses. An MSP company that provides managed services such as managed hosting, etc. to their clients may sometimes need to outsource technical support from an outside agency due to limited manpower and technical abilities. This is where MSPAssist comes in. The company provides round-the-clock technical assistance services, including infrastructure management, network operations center, IT helpdesk, and RMM development, to MSP businesses.
The article covers the best outsourcing companies in different IT sectors, providing outsourcing services to clients worldwide.