An influencer is a person who has the power to affect the purchasing decisions of others because of their influence over a particular audience, typically through social media platforms. Influencers often have a large following on platforms such as Instagram, Twitter, YouTube, or TikTok, and they use their platform to promote products, services, or brands to their followers. Brands partner with influencers to reach their target audience and increase brand awareness, as influencers are seen as trusted sources of information and recommendations by their followers. Influencer marketing is a popular form of marketing that has grown in recent years with the rise of social media.
Immediately after Tiktok became famous, the era of influencer marketing rose. People began to put forth their hidden talent as they got the right platform for which they had been waiting for so long. Couples started making romantic videos; business people started giving business tips in short videos & makeup artists began to present quick makeup tutorials or valuable hacks. Many of them gathered massive applause. They got recognition from people around the world. Their followers' list exceeded in millions. Eventually, they came out to be known as Influencers. 
Before "The Social Media Influencers Era", there were only actors or actresses who people followed blindly, be it relationship advice, beauty tips, or dress-up style. If we consider the scenario in 2023, people are fascinated by influencers more than actors or actresses. It led to a change in the product marketing or advertisement fad. Now, businesses consider approaching influencers more useful than actors or actresses. 
These are some of the renowned TikTok Influencers in Canada in 2023: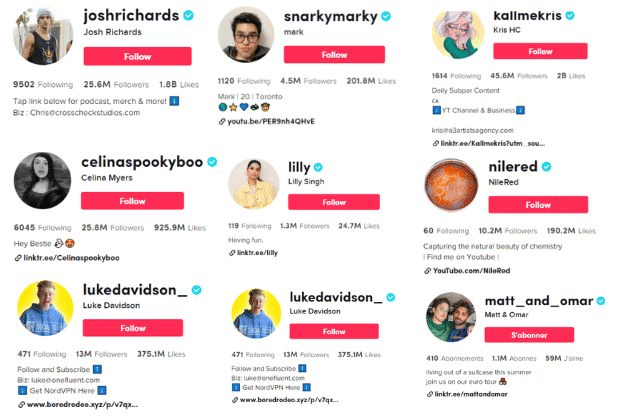 You must feel inspired to become an influencer after learning about the pros of being an influencer. Do you want to become one?
How To Become An Influencer In 10 Steps?
Identify Your Niche
Your 'Becoming An Influencer Journey' begins with identifying a niche. You've to identify your hidden talent or what you are best at. To identify, you need to have self-realization. It can be brought out with the following questions –
What do I like to do?
What kind of knowledge do I have the best?
Is my niche generic or specific to people?
Can I somehow embed multiple niches in one?
Do I have the confidence to discuss this topic like a pro?
You should write the answers to all these questions on a blank paper, then analyze them. Make sure; whatever you come up with eventually, you'll not feel bored talking about it. For example, Virat Kohli is a cricketer because he wants to be one, and his passion lies in being one. He would have felt bored after 2 or 3 matches if he hadn't been passionate about it. But, to date, he has played in hundreds of tournaments and is still energized to continue.
Being an influencer requires you to have this spirit:
I want to do it; I can do it, and I will not get bored!
Don't Forget It!
Refrain from considering your specialty as something little or big. Whether you're a fashion influencer or an Intimate Area Health Influencer, YOU'RE AN INFLUENCER! There is nothing like 'SMALL INFLUENCER' and 'BIG INFLUENCER'.
Choose The Suitable Platform
Not every platform is suitable to represent all types of niches. An influencer must choose the platform wisely based on where a significant portion of the target audience lies. And yes, it can't be a part of your strategy – 'Every platform has some of my target audience, so I'll be active on every platform.' You'll create chaos when you deal with your influencer sphere like this. Be something; people come to you!
Take an instance: You're active on Instagram. You must build such a presence over there that people are forced to make accounts on Instagram to see you.
| | | |
| --- | --- | --- |
| Platform | Active Users | Best To Post |
| Instagram | 500 Million Dollars | Reels, Short Video Content, Creative Graphics |
| TikTok | 1 Billion | Videos worth 15 to 60 seconds |
| YouTube | 2.1 Billion | Long Videos |
Create The Best-In-Class Profile
To become a good influencer, you must optimize your profile according to your chosen social media platform. Write a catchy bio that reflects your personality and what your account is about. Use some excellent and relevant emoticons. Choose a good profile picture./ portfolio photo To become an influencer, you must keep your account open (NOT PRIVATE).
Keep Switching Between Creator or Business Account
Switching between a business or creator account will help you reach more people. No matter whichever account you choose to go with, you'll have access to the following:
Valuable Tools & Features For Content Creation
Content Performance Analytics
Engagement Statistics
Various Marketing Features
Follow/ Unfollow Metrics
Did you know?
If you feel you're doing best in the business sphere, consider having a professional business website. Having a website will not be enough: instead, you need to get it ranked in Search Engine. For that, you must hire a reputable SEO company. Make sure to consider important factors while hiring an SEO agency – Success Rate, Previous Client's Feedback, and Trustworthiness.
Keep Studying Your Audience
Before you post any content, make sure to carry out thorough research about whether your audience is going to find the particular helpful post. Also, be aware of the fact that – What your audience likes today will not like tomorrow! So don't try to bring monotony in your posts. Make sure to post dynamic content.
Include Keywords In Your Caption
To receive more searches, ensure you should embed the keyword in the caption. Don't overdo (stuff) it. Also, try to keep the caption short and sweet. If you want to fill it with some details, include a catchy 'one-liner' in the beginning, include space, and give details. But don't make your caption appear in an essay. Suppose you have a lot of information to convey that you can't cover in a particular graphic, video, or blog. In that case, it is suggested to write a comprehensive blog on that specific topic and then share its link in the caption. Easy-Peasy??????
Always Keep A Look At Social Media Analytics
After 24 hours of posting, glance at the social media analytics. Compare the analytics of the current post with previous posts. It will give you an idea of what content people love to consume.
Be A Brand!
Deliver statements that etch in people's minds. Delivering something unique and new will make you stand apart in the queue. To become a brand, you must not copy what others are doing. But it surely means looking at what they are doing and how they are doing. Once you've analyzed everything, think something out of the box. It will make you shine through.
Be Consistent
Be loyal to your targeted audience. Give them the desired time and attention. Don't infuriate them by not having a schedule and showing up on and off. Create a posting schedule and stick to it.
BONUS TIPS
Hire Social Media Maintenance
If you find it difficult to maintain social media presence on your own and need help with that, please consider getting assistance for social media maintenance.
Last But Not Least – Connect With Your Followers & Fellow Influencers!
Don't make your social media page about YOU, YOU & YOU! Reach out to your followers and post a video or reel featuring them, or you can also connect with fellow influencers to benefit from their followers' list. Try it out; it'll work!
Conclusion
Becoming an influencer takes time, effort, and dedication, but it is possible with the right approach. Here is a conclusion of the key steps to become an influencer:
Find your niche: Identify what you are passionate about and what sets you apart from others. Focus on a specific area that you can become an expert in and create content around it.
Build your presence on social media: Choose the social media platforms that are most relevant to your niche and build your presence on those platforms. Post regularly, engage with your followers, and share high-quality content.
Grow your following: Utilize strategies such as hashtag research, collaborations, and social media ads to grow your following. Be patient and consistent, as building a large following takes time.
Establish yourself as an expert: Share your expertise, opinions, and insights on your niche. Provide value to your followers by offering helpful tips and advice.
Monetize your influence: Once you have established yourself as an influencer, you can monetize your influence by partnering with brands to promote their products or services. Make sure to only partner with brands that align with your values and interests.
In conclusion, becoming an influencer takes time and effort, but it is possible with a solid strategy, hard work, and persistence. Focus on building a strong personal brand and providing value to your followers, and you will be well on your way to becoming a successful influencer.