Search engine optimization (SEO) knowledge isn't enough. If you want your business to improve its online visibility and rank on the search results pages (SERPs), you'll need to use the right tools.
When you have access to easy-to-use, reliable and accurate SEO tools, you can:
Gain valuable insights on the performance of your website
Dissect the SEO strategy of your competitor and use it to your advantage
Communicate clear return on investment (ROI) to your customers or clients
Track the progress of SEO strategy
Determine high-converting keywords for your content marketing strategy
Save money and time conducting manual SEO audits
Finding the best tools on the web, however, can be difficult. You'll have to scour and compare hundreds of platforms that will help you do SEO for accounting firms, dental practices and other businesses.
You don't have to spend countless hours figuring out which tool you should use.
Here are the top free and paid SEO tools that will help you craft a winning digital marketing strategy:
Google Search Console
This technical online platform enables you to obtain insights into the organic performance of your website along with reported issues, such as manual action penalty notifications.
Some of the things you could do with Google Search Console include the following:
Let Google know of the changes to your website's domain name
Understand the SEO performance of your website in terms of average positions, click-through rate (CTR), impressions and clicks on an individual keyword level
Get insights into the internal links and backlinks that Google knows
Submit a sitemap
Check URLs to identify indexing and crawling problems
Find website security issues and manual actions
The great thing about Google Search Console is that it's free to use. Whether you're assigned to do SEO for a car dealership business or a multinational company, you'll want to use this online platform to get the data you need to develop a solid digital marketing plan.
Ahrefs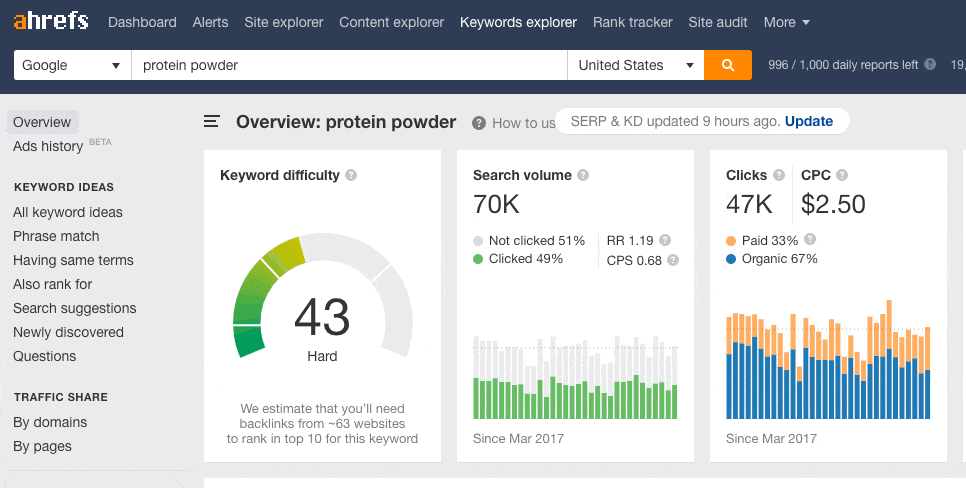 This all-in-one SEO toolset allows you to:
Analyze your competition
Track your ranking progress
Analyze the top-performing content in your industry
Study the searches of your customers
What's more, Ahrefs provides learning resources that anyone can access free of charge.
Take note, though, that this SEO platform has a paid trial period. You get complete access to all features and tools of your chosen plan for seven days for the price of seven dollars. After the trial period, the price goes up to $99 per month (if you've chosen lite) or $179 per month (if you've picked standard).
Investing your money in Ahrefs, however, is worth it. You could, for instance, use the platform's content explorer feature to discover the best blogs that exist in your industry. By doing competitive research, you can determine which content your company blog should be about that will help you outrank your competitors.
Woorank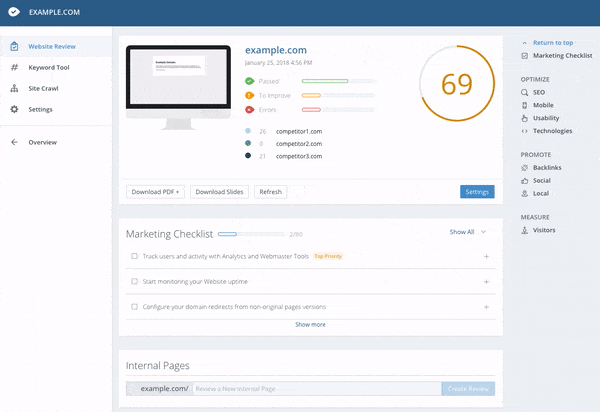 This top SEO analysis platform provides users with paid and free options to track and report their marketing data. You can use Woorank to identify the keywords your competitors are targeting, so you can overlap with theirs.
You can also use this tool to understand how these keywords perform over time to help you optimize your content for search engines and users in the best way possible.
On top of keyword research, Woorank helps you identify the SEO elements missing from your website from both a content and technical perspective. This platform can pinpoint site security issues, downtime problems and duplicate content, as well as offer guidelines on how to fix them.
SEMRush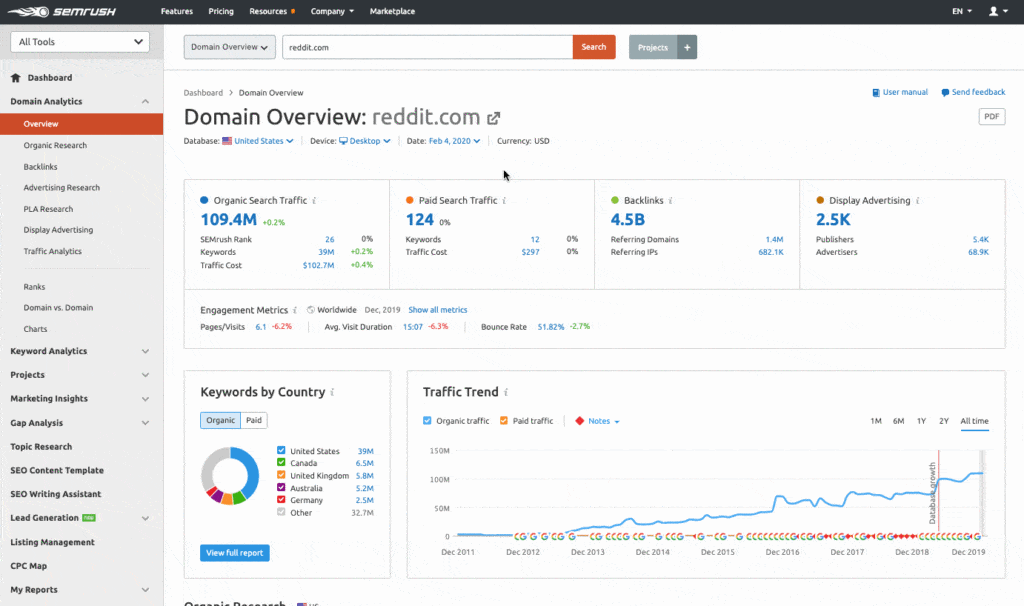 This comprehensive SEO toolkit allows you to stay on top of all technical matters concerning the optimization of your website.
Plans start at $119.95 per month, but you can sign up for a free account to check out the features and see if they're helpful for your business.
A free subscription enables you to do the following:
Use the Position Tracking tool to track the search ranking positions of up to 10 keywords
Conduct up to 10 searches per day using SEMRush's Keyword Analytics and Domain Analytics databases
Crawl up to 100 pages of your website using the Site Audit tool
Obtain countless keyword suggestions from a large keyword database using the Keyword Magic Tool
Run a checkup to identify up to 130 SEO and technical issues on your site in a matter of minutes
Whether you're using SEMRush for competitive research, reporting or technical SEO auditing, you'll find that the free subscription of this remarkable platform provides a range of features that will make your SEO tasks easier to do.
Google Trends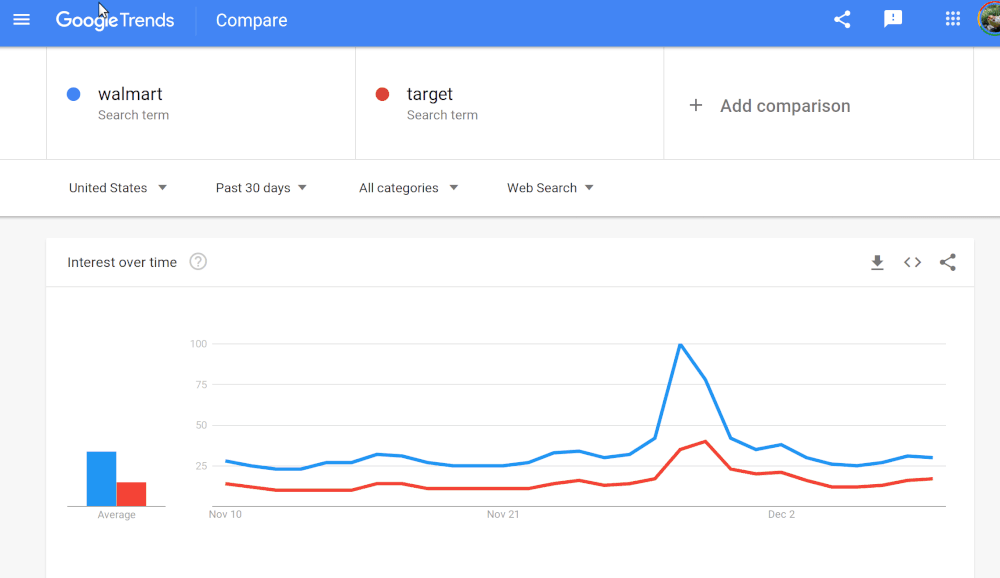 This tool has been around for many years, but not many businesses and digital marketers are using this tool to their advantage. Google Trends offers you vital information about a keyword and gives you excellent insights into the trends surrounding the topic.
This online platform also allows you to look up keywords in any country and obtain valuable information, such as interest over time, rising queries and top queries.
If you're not sure which trends you should use for your digital marketing strategy, consider giving Google Trends a shot.
SEOQuake
This highly popular toolbar extension enables you to view various search engine parameters easily and compare them with the results you've received from your other digital marketing campaigns.
Although the numbers and icons that this platform yields may appear unintelligible to beginners, skilled digital marketing specialists will love the wealth of information generated by this platform.
Use SEOQuake to obtain a website's traffic history on a graph and get details about your site visitors and their country.
This toolbar also comes with buttons for a site's Google index update, web archive age, backlinks, Alexa ranks, Bing index, Facebook likes and SEMRush ranking. You can also check out the toolbar's diagnostic page to get a bird's view of possible opportunities or issues affecting a particular website or page.
Serpstat

Businesses and marketers can use this growth-hacking platform to help achieve their content marketing, pay-per-click advertising (PPC) and SEO goals. Serpstat is an excellent choice if you need an inexpensive, all-in-one tool to analyze your competition and solve SEO tasks.
Plans start at $69 a month for a Lite subscription. You get to save more when you sign up for an annual subscription.
One of the most useful features of Serpstat is the Missing Keywords Module. This tool lets you expand the keyword pool of the page of your choice with highly relevant keywords in a matter of clicks. It's a great way for you to gather missing semantics quickly and outpace your competition.
This free service helps eliminate the guesswork of optimization, enabling you to test the content of your website. Google Optimize is ideal if you're doing simple A/B testing of two unique pages or comparing a combination of elements on a particular web page.
Google Optimize

If you're going to use this online platform, you need advanced technical knowledge on optimization. This tool isn't for the faint hearted and may even challenge experiened SEO specialists.
What's more, you'll need adequate time and traffic on your website if you run some of the more complex multivariate testing present in Google Optimize. Having enough data will help make the results actionable, similar to what you do with Google Analytics.
Screaming Frog SEO Spider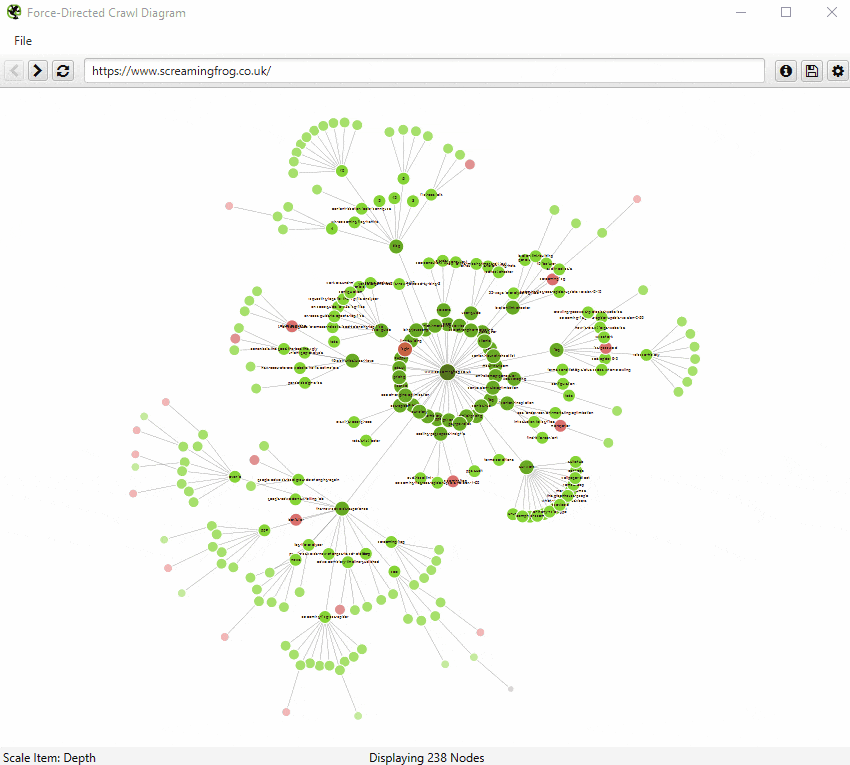 This online platform lets you crawl up to 500 URLs using a free account. This is enough to provide you with a good level of insight into your website's technical issues.
If you're happy with this service, you have the option to sign up for a paid version for £149 per year.
This desktop-based tool is handy for users who need to audit and analyze technical SEO issues on their website. Whether the task is to uncover duplicate content, locate broken links, analyze meta data or audit redirects, you can count on Screaming Frog to generate valuable reports for small and large sites.
A handy feature of this platform is the ability to export your findings to a spreadsheet, which you can use for making SEO recommendations.
Panguin Tool
The algorithm updates released by Google can affect any website that offers terrible user experience. The fluctuations on the search engine results pages, however, don't always make sense to every user at first. The Panguin Tool is a free way to figure out the probable causes of these changes.
This online platform enables you to quickly determine if a historic or recent update to Google's search algorithm has affected your website.
The beauty of the Panguin Tool is it optimizes the process of verifying site traffic performance against algorithm updates. You no longer have to do tab switching and match up the dates manually.
Another benefit of this platform is that it's lightning fast. You can connect your Google Analytics account to the online tool in a matter of seconds. Then, you can overlay various algorithm updates onto your traffic graph. This helps you pinpoint possible causes for dips (or increases) in site traffic.
Conclusion
These 10 free and paid SEO tools will give you the data, information and insights you need to come up with a solid digital marketing strategy. Although some automated tools may be easy, you still have to put in the work to achieve the results you want. This means following the SEO recommendations generated by the online platforms, creating optimized content and making data-guided technical adjustments to your website.