The global digital marketing software market is growing leaps and bounds. Digital/ online marketing help businesses generate more revenues. Incorporating essential digital marketing tools, including SEO, SEM, social media, email marketing, and display ads, ensures optimization of marketing growth and customer acquisition strategies. Digital marketing software applications can help implement a digital marketing plan. 
Implementing scalable digital marketing software to promote the brand online has become the latest trend, especially among small businesses. By integrating AI-based digital marketing software into their systems, businesses can obtain customer insights and a deeper understanding of product choices. All businesses, including small and new, are working on digital marketing strategies to take their businesses to the next level in terms of overall business growth.
Resultantly, the market is witnessing rapid sales, which is expected to continue further. Citing the potential this market demonstrates to grow further in the next few years, MRFR expects the digital marketing software market to garner over USD 264.5 billion revenues by 2030, growing continually with a 19.20% CAGR from 2022 to 2030.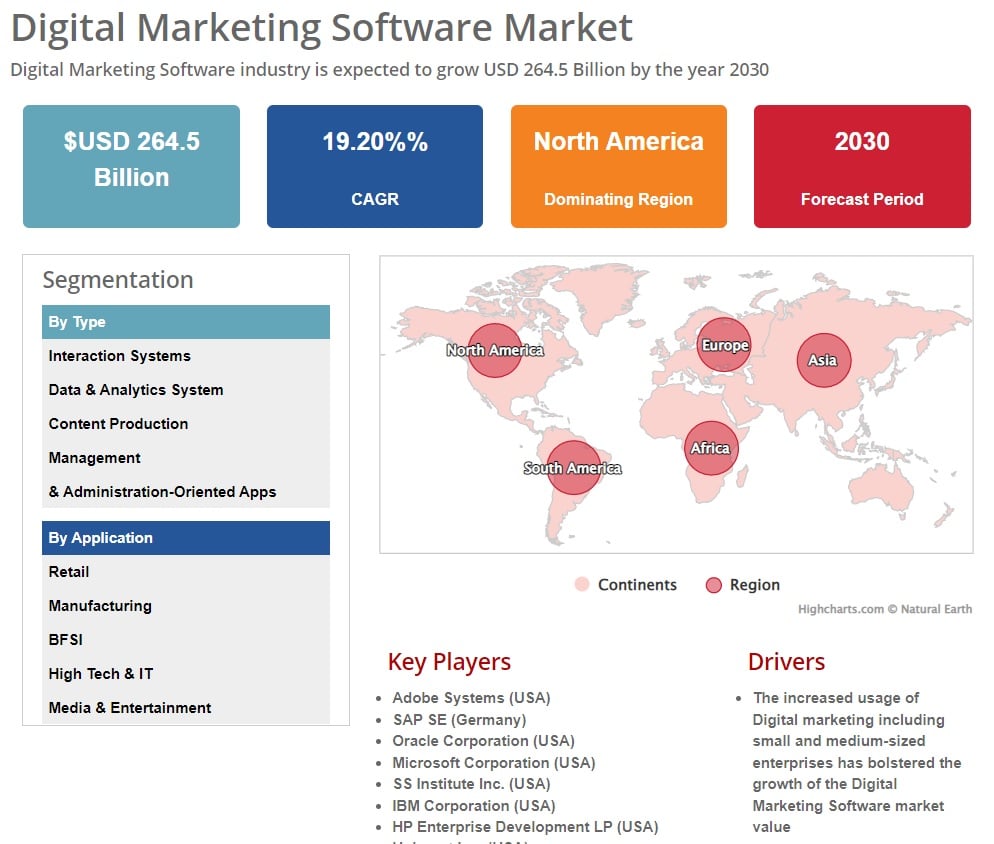 Digital Marketing Software, Applications, and NFTs 
Over recent years, marketing has become more agile than ever, and businesses need a plan that lets them know their customers and understand what they want. Now, efficient marketing demands a more comprehensive and user-oriented plan. Resultantly, powerful digital marketing applications are emerging to boost marketing efforts in real-time to stay ahead of the competition.
The digital marketing concept comprises social media management, digital automation, content marketing, and community building. Whether its managing customer relationships, winning over leads or uncovering new marketing opportunities, categories that serve as a powerful marketing stack foundation include social media marketing, email marketing, search engine optimization (SEO) tools, conversion optimization tools, and lead enrichment tools.
Given the proliferation of digital marketing, there is a growing expectation that brands should help make the world more sustainable, using their knowledge and market power. And the term 'sustainable marketing' became the talk of the town. As the world is recovering from the recent COVID 19 pandemic and adapting to new ways of life, technologies that might offer customers an opportunity to do their bit to help have become essential.
Companies are ensuring that their marketing budgets are utilized in a way that will help them abide by the sustainable marketing cause. In such scenarios, NFTs emerged as an opportunity to redefine brands' engagement with their customers. Marketing leaders are taking one step forward in driving the NFT ecosystem to create an emotional engagement with their customers and establish their brand identity.
The reasons why digital marketing budgets must include NFTs include the benefits, such as aid in engaging customers in supporting the causes they believe in, the opportunity to deepen the brand's engagement with customers, and to identify customers willing to engage and pay for premium products and exclusive experiences connected to the brand.
Recently the fashion brand Wrangler launched an NFT collection of a 3D animated iconic dance move of Leon Bridges, an American musician, wearing a 3D Wrangler outfit. The NFT buyers were either fans of Wrangler or Leon Bridge or both, who paid for this limited edition artwork accompanied by a metaverse wearable, an autographed real denim jacket, and a VIP pass for a private performance at New York Fashion Week. Wrangler and Leon Bridges thus could create a positive feedback loop in fan following and engagement for both the brand and the artist.
Strategies Digital Marketing Software Providers Follow
Digital marketing software providers strive to help users drive demand generation and reach new clients with less effort. They provide a marketing automation platform that lets users easily find content and tools to supplement their integrated campaign activities while saving time spent on marketing with better results. They develop digital marketing software with built-in features for ready-to-use campaigns & events, website syndication, and performance metrics.
Notable Industry Updates
On Jun 02, 2022, Zeta Global, a cloud-based marketing technology company, announced the expansion of its long-standing partnership with Amazon Web Services (AWS) to bring the promise of cloud-based, data-driven marketing to more enterprises. The Zeta Marketing Platform (ZMP) will be made available as the first marketing cloud in AWS Marketplace, a digital catalog with a number of software listings from independent software vendors (ISV), making it easy to find, test, buy, and deploy software.
On Jun 01, 2022, Gannett Co., Inc., a subscription-led and digitally-focused media and marketing solutions company, announced strategic organizational restructuring by creating two new U.S. operating business units, Gannett Media and Digital Marketing Solutions (DMS), to drive subscription-led strategy. The new corporate structure is designed to align Gannett's subject matter expertise and resources with favorable growth opportunities.
This reorganization ensures Gannett's consumer and B2B businesses are strategically optimized for its next growth stage with incredibly experienced leadership. Further, it will help Gannett to improve its operational efficiency and enable the acceleration of its digital future as a data and technology subscription-led business.