An organization can become genuinely agile and digital through the implementation of digital process automation, which brings together individuals, apps, devices, and information from across the business.
Automation of digital processes is frequently referred to as either the next generation of business process management (BPM) or its natural progression. Automation of digital processes, like business process management (BPM), focuses on optimizing and digitizing existing operations inside an organization.
However, digital process automation goes a step further in that it enables your entire organization to build intelligent apps and digitize all of your processes, which results in the creation of an engaging digital experience for clients.
Integration at the back end, tools for collaboration, and architecture that is based in the cloud are the major supporting technologies that companies use in order to manage automation activities and processes within a company.
The deployment and utilization of sophisticated and real-time analytics in conjunction with digital process automation is on the rise. Artificial intelligence (AI) and machine learning (ML) innovations are essential to continual improvement, an essential component of digital transformation and innovation.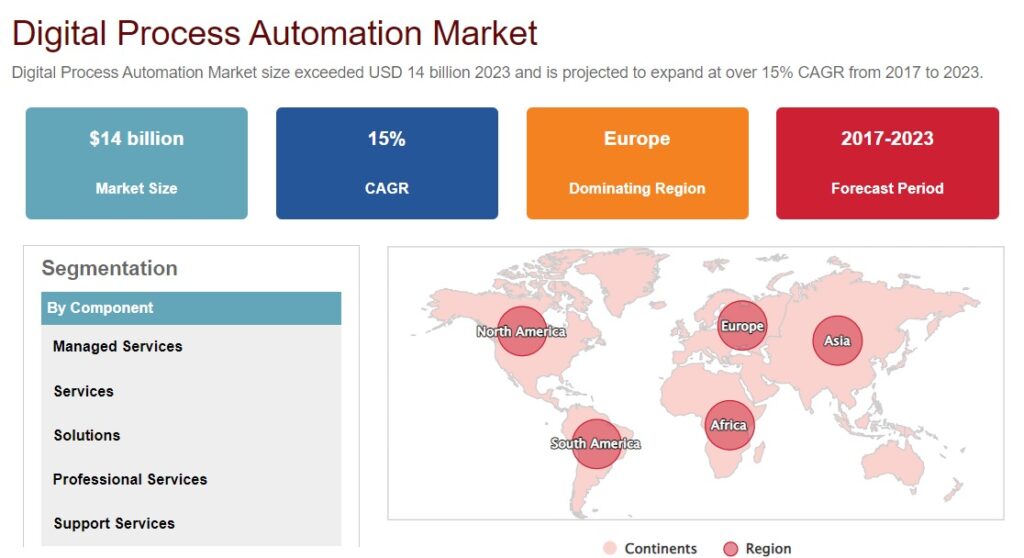 Advantages of Digital Process Automation
Digital Transformation
The optimization of business processes is essential for digital transformation and innovation. You might have the most beautiful website in the world, but if the steps that take place after a user clicks on your site, from order management through delivery, do not measure up to the expectations set by that amazing experience, you could end up losing the customer.
As a result, the automation of digital processes is an essential component of achieving digital transformation and increasing experiences provided to customers. If you don't have it, you won't be able to gain clients, serve them, or keep them as customers.
In order to compete with digital enterprises, yours company's operations and employees must adapt to the change. To provide multichannel engagement for your clients, traditional processes must shift from standardization toward contextual approaches. Organizations need automated processes to orchestrate their complicated operations and provide services based on automation.
As you work to transform your company into a digital one, you can rely on low-code and process management solutions to handle everything from basic tasks to complex ones like automating the customer journey across systems and teams and facilitating better decisions with faster, smarter actions.
More sophisticated customer experience
With the help of digital process automation, businesses are able to design more sophisticated and user-friendly customer journeys that capitalize on their previous investments in data, technology, and application programming interfaces.
The integration capabilities that come with digital process automation make it possible for data to flow fluidly from any channels, providing you with the knowledge and insights you need to be successful.
Less Operational Costs
Even though this is not the primary objective of digital process automation, many of its customers continue to perceive a reduction in overall costs. The beauty of automating digital processes is that they can cut costs while simultaneously improving the experience that they provide for customers. Customers typically have more positive experiences that are both faster and more transparent as a result of efficiencies that lower costs.
Increase Innovations
Knowledge workers and employees at all levels of a company are able to shift their attention to more creative endeavours as a result of digital process automation's ability to relieve them from mundane duties and free up their time. For instance, an employee now has time to think about the onboarding journey and ways to enhance it rather than taking the time to onboard a new customer because they no longer have to take that time, which will eventually provide a platform for new innovations in the company.
Why Digital Process Automation is the need?
To facilitate a comprehensive strategy for automating business operations, digital process automation equips businesses with the nimbleness and intelligence they require. In today's data-driven world, the ability to monitor and control the flow of information across an organization is crucial for staying competitive.
However, digital process automation has an effect on the entire organization, while business process management is focused on individual operations. Automating digital processes has various advantages:
Enhancing the quality of interactions with clients
Transforming into a fully digital company
Making slow, inflexible systems nimbler and more adaptable
Automation of digital processes not only saves money but also frees up workers to focus on creative problem-solving rather than mundane administrative work. It also brings together IT and the business to ensure that both are working toward the same ends and taking the same measures.
With all these things in consideration, we can say that the digital process automation will soon be a major known as one of the key technological advancements taking the industries on a new height. To know more about digital process automation and other technological advancements, follow us and get access to learn about such amazing technologies for free.