A health care organization needs to have a successful website to win patients. For this, your website must have an online presence and your patients can easily find it.
Health practitioners need to rank their websites to get potential patients for scheduling the appointment. Whether you are a big organization, a small brand or wish to set up a health care business, you have to market it to attract customers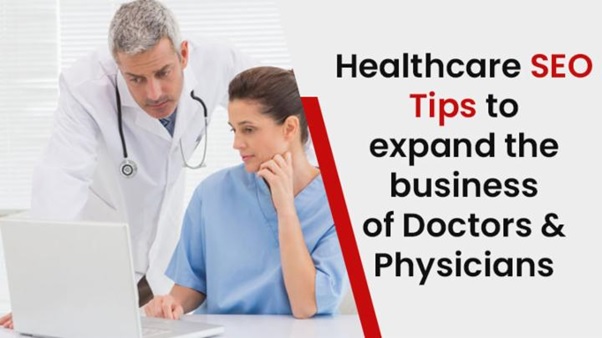 If you want your medical website to be on top of SERPs, you need to follow some basic SEO tips for healthcare to increase your website search rankings.
1. Design Your Medical Website:
Your efforts to start your business start with designing a solid website. Designing and updating your medical website regularly is of utmost importance. Ensure that you have a Contact Us; about us page and your website must contain all the information like your name, address and phone number along with the best reviews you have received for your outstanding services.
Your website showcases the vision of your practice. Make it well structured and optimized to fetch more revenue and patents. You can hire a professional designer to help you in improving the performance of your site, user-friendly patient experience and boost your income.
Website security, speed, and mobile-friendliness are important ranking factors to take care of. Make it clear, simple and navigation friendly. Showcase only the relevant information. More than 70% of users look for information from their mobile devices. Make it mobile-friendly for users.
2. Get Positive Reviews:
For ranking on Google, reviews/testimonials are important things to have on your website. Show the direct reviews given by people and the reviews given b third-party vendors like Facebook, LinkedIn, Pinterest, etc. They are a string parameter to rank your site.
You can generate reviews by listing on your sites on various platforms. Use a review generation application to carry out the process through email or messages.
According to a survey, a large number of patients look for online reviews before booking their appointments for new physicians. The honest reviews create a first impression on your new patients. Observe your reviews and improve effective evaluation from your patients.
Create social media profiles on several platforms if you wish to stay in a competitive edge. Because the social media pages help you build authority and increase your website organic traffic. It is a better chance to rank your websites. Keep publishing the best content and regularly share it on different social media platforms. It will allow you to take your business to relevant and prospective customers.
It is one of the fastest ways to reach your audience. Share it with the right public. When your business goes viral, it will get more engagement and awareness from the market.
4. Submit Your Website To Google My Business:
Get your clinic website listed on Google My Business. For this, you need to create, claim, verify and update. To strengthen your health care campaigns, it is the best strategy to rank your website. It is a free tool available for carrying out your business on Google.
To boost your SEO and ensure you are a genuine organization:
1. Include the most searched keywords according to your business.
2. Eliminate any duplicate information.
3. Add your name, contact number, address and other contact information on your website.
4. Showcase your services and hours of operation
5. List your services under different categories
6. Add videos, images of your clinic.
7. Add reviews and testimonials of your website.
If you are getting ranked through on-page SEO or off-page SEO, the content plays the main role in both the strategies. After your website attractive design, your content plays a vital role to attract the crawlers on the search engine results page.

Google keeps the most updated and fresh sites on search rankings who constantly keep updating their website content. If you don't update regularly, your website is considered outdated according to the ever-changing market standards. To create the right content, look for your prospective audience, type of information they need, and the most keywords.
Make the content simple and easy to read.
On-page SEO refers to the techniques that are taken directly from your site for its ranking on the search engine. It refers to the code, images, headlines, and videos that make your website ready for search engines. Mobile responsiveness and page loading speed on your site depend on these factors.
Title Tags: It specifies the title of the web page which is crucial for SEO and sharing and is clickable. The title should be a unique, attention seeker, of specifying the length, with targeted keywords, and should briefly describe the page's main content.
Description Tags: It contains the short description and is below the title tag. This should not be more than 150 characters. It is used to influence people to visit your site.
Site speed: It is a significant algorithm for Google, to know the loading speed of your site. Your site speed shows how quickly users can interact with your website and access the information.
Mobile responsiveness: In today's market trends, it is significant to make your website mobile-friendly because this device is readily available to users and accessing information through it is easy for them.
Keyword Meta Tags: Use the most searched keywords for better rankings. Though they are not visible to visitors, they can be seen only by search engines. The keywords and using them in the right density determines your ranking factors.
Header Tags: The header tags are used to inform engines what your website is about. Use keywords in headers. Make them consistent and eye-catching.
Anchor links: They are clickable text. Your anchor link should be in context to the page you are linking.
Alt tags: It is an attribute for image tags, which is an alternative text for Search engines.
Sitemaps: An XML sitemap allows a search engine to crawl the listed URLs. It is significant for good SEO practices.
Footer: Optimize the footer menu including copyright information of your site.
7. Off-Page SEO Techniques:
The optimization strategies that take off your website is called off-page optimization.
Backlinks: Linking your website to any other health care website is the factor for off-page SEO techniques. They are called external links. These backlinks should be relevant to your business. They will give credibility and authority to our site. They help in the indexing of the website page. To get the backlinks, improve your website structure and make the content valuable.
You can get backlinks through:
Writing Blogs and Articles: Writing blogs and articles are healthy strategies to promote your website. They will also clear about your website and you can use your website link for promotion.
Reputation Management: A user considers your website trustworthy after reading the reviews. Respond to all the reviews and ask for their inconvenience if faced with any. Keep your patient's identity uncovered.
Press releases: It is a great source to know the healthcare publications and reputed authors about the launch or your new product or services.
Search Engine Submission: Submit the website to popular search engines like Google, Bing, and Yahoo.
8. Technical SEO:
It is the process of optimizing your website for indexing and crawling. Your website page speed and load speed are the most crucial ranking factors. You can hire a web developer for website optimization and keeping track of your website's speed. For the technical set, your site should be mobile-friendly.
To quickly load your website, use the hosting and preferred domain, use Secure Sockets Layer, and avoid duplicate content as it will confuse the readers. Get your website registered with Webmaster Tools and Google Search Console.
They are a free tool to submit your website for indexing. With these tools, you can view backlink of your site, trace spam links and test mobile-friendliness of your site
9. Install Google Analytics:
Installing Google Analytics will allow you to view the number of visitors on your site, your source of visitors, the most popular pages on search rankings, stats and the pages where users leave the site.
It helps you to deeply analyze your site. The use of Google Analytics will help you to structure your business. You can access reports of your website and save your efforts and time. It understands the events like external links click, downloads, and internal linking.
You can track the total number of pages viewed, unique page views, average time on a page or website, bounce rate and visitors who exit the page. Google Analytics answers your queries like how to improve the website's speed, which piece of content is most liked by the visitors, which websites send the most traffic to your site. This tool is free to use, can be easily set up, customizable documents, allow easy integration of Webmaster tools and allow dynamic integration with AdWords.