A solid cryptocurrency exchange is an essential component of the bitcoin industry. It rewards you well and gives you the freedom to choose your own hours and be your own boss.Statista predicts that sales in the Cryptocurrency category will hit US$34.72 billion in 2022 and US$74.30 billion in total by 2027, with a predicted annual rate of expansion (CAGR 2022-2027) of 16.43%.
Starting a business is never simple, and launching a cryptocurrency exchange is no exception. Cryptocurrencies face monetary and regulatory risk because they are still a relatively young participant in the market. Various factors must be considered to prevent or reduce these dangers.
As there are countless crypto exchanges and technology, so selecting the most appropriate components can occasionally be daunting. To obtain competitive advantages in the market, business owners must consider several crucial factors while developing their bitcoin exchange.
This article explains everything you should know about bitcoin development to build a platform for cryptocurrency exchanges that is more usable, effective, and scalable in the future:-
1. Get familiar with the various exchanges:
The first and most crucial choice you must make when creating a cryptocurrency exchange is the exchange type. This phase determines the rest of your actions, including licensing, software selection, expert hire, and dealing with commercial entities. Exchanges for cryptocurrencies come in three flavors: centralized, decentralized, and hybrid.
2. Consider and select the rule:
When creating a cryptocurrency exchange software development company, jurisdiction is chosen, which affects laws and trends in areas like taxes, accounting, and company management. Regional regulatory environments can differ significantly, ranging from explicit regulations to prohibiting or no rules. The latter alternative may initially appear more appealing to you, but regardless of your company's circumstances, keep in mind that sooner or later, such a constitutional vacuum may be closed and not to your company's advantage.
3. Examine the market more closely:
Examine how current exchanges operate and research user expectations. What preferences do traders have? What issues do deals encounter? Which cryptocurrency exchanges provide the best prices and are in abundant supply? You may use it to construct a move action plan to set up a bitcoin exchange and provide enticing customer terms.
You must also choose whether to operate with a worldwide audience or just one nation regarding the size. Offering ideal circumstances to a specific target group and starting small may be more advantageous than challenging the market giants. All of them are undoubtedly steps toward your website.
4. Become familiar with your technical prowess:-
 If you want to launch a bitcoin exchange, you or your co-founders must be aware of their level of technical proficiency. Whether programmers, dealers, or salespeople, every cryptocurrency company has to have the technological know-how to fully and accurately understand the underlying blockchain technology.
You should be knowledgeable about how distributed ledgers work.
Educating yourself about Ethereum's technology and smart contracts would be best.
You must be proficient in both analytical and structural stock market analysis.
It would be fabulous if you attempted to become familiar with TypeScript, JavaScript, and Solidity.
5. Discover where to locate a liquidity provider:-
An exchange's liquidity indicates how quickly and readily an asset may be converted into its counterpart in another currency. The level of liquidity is crucial to an exchange company's performance. Customers will almost always select an exchange with a lower spread and strong liquidity.
6. Get ready to assure honesty and security:
Nearly all organizations that operate with cryptocurrencies adhere to the KYC (Know Your Customer) laws. Confirm the client's identity; it includes looking at their passport or documentation. Adhering to such criteria serves to avoid any chance of fraud occurring within the exchange network.
7. Establish a budget:
Before you begin working on your product, you must have a rough notion of the startup costs for a crypto exchange. It includes the cost of innovation, infrastructure, legal counsel, government registration, promotion, development costs, and much more.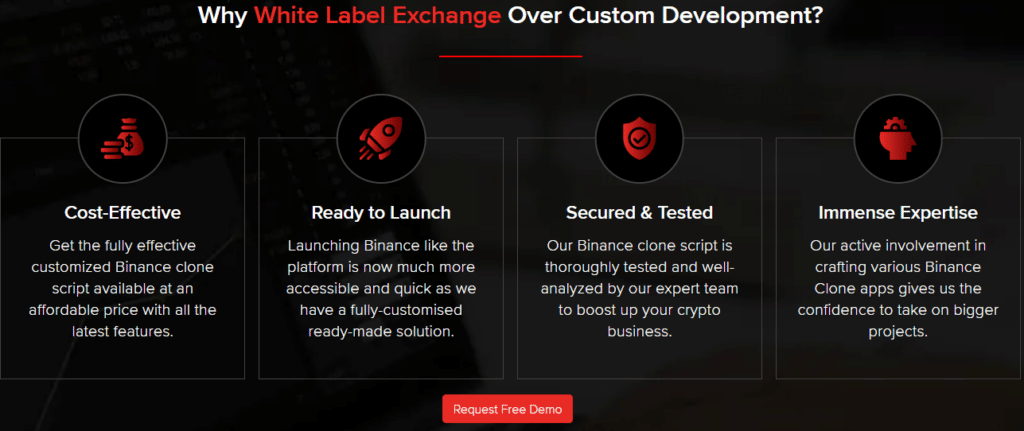 8. Look for a supplier of a solution:-
B2Broker develops bitcoin exchanges for a one-time license fee exempt from royalties or commissions. It suggests that there are no ongoing expenses and that you will unquestionably receive a comprehensive solution, which is essential for auditing purposes.
9. Get ready to be flexible and creative:
Do you intend to keep up with how the market is evolving? You must adjust as soon as you can. If you don't, your rivals will, costing you market share. You must set up your company to try out new income streams and offer special items and promotions that your competitors can't match.
Upon Analyzing the Facts
In the upcoming years, cryptocurrency exchanges will gain value and appeal. These exchanges have a great deal of room to develop. As new currencies are created and others are added, the cryptocurrency market is expanding faster.