Startups around the world today are proliferating at a rapid pace with intense competition among them. In such a time, it is vital for startup businesses to focus on their core business functions to sustain in the market and attain a competitive advantage over rivals by continuously delivering exceptional products to customers.
Due to lack of resources and manpower, the owner of startup businesses engage in multiple activities and don't get enough time to manage everything. At the initial stage of a startup business, lack of satisfactory funds, staff, and infrastructure increase the stress of startup owners. Hence, most startup businesses fail to succeed in the long run.
To avoid such problems, startup businesses can outsource non-value adding tasks to third-party businesses so that their in-house employees can focus on the main business functions. Similarly, in the case of a tight budget, poor technical expertise, and limited prior experience, outsourcing can be a great idea for startup businesses to get their work done.
What is Outsourcing?
Being a startup owner, you might have exceptional technical skills or knowledge that is vital to complete complex projects in your firm. But, as a startup, it is not possible for you to manage multiple tasks at once since you lack dedicated manpower, cost, and other resources.
Hiring more employees in-house to manage multiple tasks can be another idea that may blink in your mind for handling your messed tasks, but again, your budgets might not allow you to do so.
In such cases, outsourcing is a brilliant idea for startups.
Outsourcing, in technical terms, denotes the business practice when certain functions of a business are completely managed by an outside firm on a contractual basis, rather than doing that work in-house.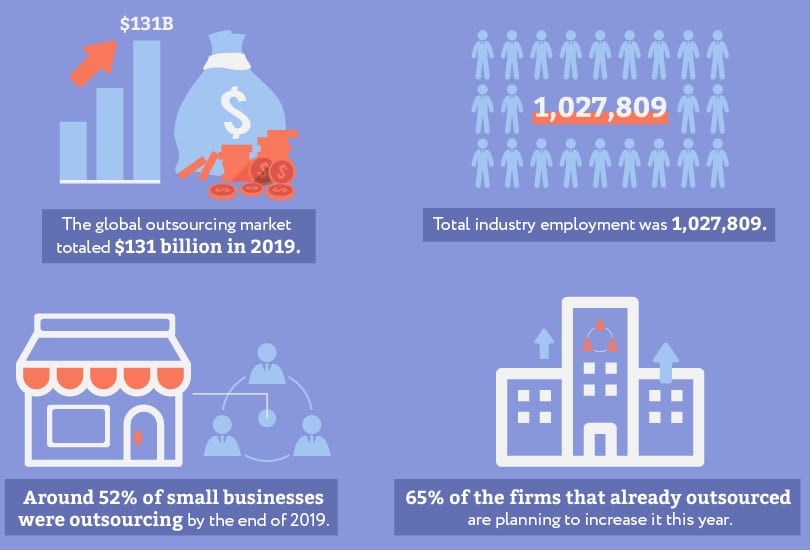 Outsourcing is usually done by firms to control their costs. Both value and non-value adding tasks are outsourced by businesses.
The total contract value of the IT outsourcing market will grow to over $409 billion USD by 2022. Source: Technavio
Benefits of Outsourcing for Small Businesses/Startups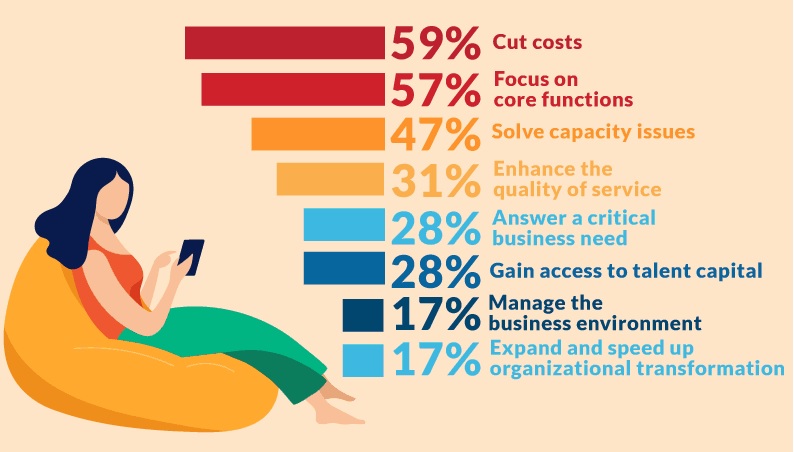 As per the reliable research data, 90% of the startup business fail in the first year itself due to the lack of skilled resources, capital, and poor workload management. To avoid this, outsourcing can be an excellent idea for startups to get optimal time to focus on the tasks which they can do best.
As famously quoted by Peter Drucker:
"Do what you do best and outsource the rest."
Therefore, outsourcing reduces workload and allows startups to work creatively on tasks, which they can do best.
Being an IT-based start business, every other firm looks for a top-quality web and mobile app development outsourcing company that can assist them in their projects. So, partnering or collaborating with an outsourcing service provider IT firm in today's digital era is not a bad option.
Still not agree?
Worldwide IT spending is projected to total $3.79 trillion USD in 2019. Source: Gartner
Here is a list of the benefits of outsourcing for Startup Businesses:
1. Time-saving Option
Startups can boost their work speed by outsourcing some of the most time-consuming tasks to third party businesses. Some of the usual time-consuming tasks in a firm include payroll processing, accounting management, distribution, etc.
Working on new and innovative ideas is more important for startups to develop disruptive products or services so that they can raise funds from investors in the market easily.
Outsourcing low value and repetitive tasks boost startup productivity to a great extent.
2. Fostering of Innovative Ideas/Products
As a startup grows and gets success in the market, its in-house resources like manpower or technology, gradually start improving. So, you as a startup must take corrective actions to avoid any labour shortfalls.
In scenarios, when your startup businesses have a heavy workload, outsourcing less value-adding tasks will help your in-house team to focus on creative processes and get more optimal results.
Although, you must take utmost care while selecting an outsourcing vendor by checking their past work, client reviews, experience, and overall skills so that you get the best output.
As your business starts growing, you will be able to reap more benefits from the outsourcing work as you can focus on creative tasks more in your firm.
3. Gain Superior Competitive Advantage
Initially, the cost of products developed by your startup might not be ideal for customers. Hence, moving towards outsourcing can be a very good idea to take advantage of economy of scale and economical cost structure of an outsourcing firm. This helps you get a competitive advantage over rivals.
4. Cost Saving Opportunity
Outsourcing complex or repetitive organizational tasks is a great idea for startups to save cost and time. For instance, suppose you are a startup business and has just received a complex salesforce project from your client. To complete this task, your firm would be required to hire talented salesforce employees, which would consume a lot of time and cost in the hiring process. After hiring also, you have to a regular pay salary to those salesforce employees, even when you are not having a project related to salesforce.
Therefore, you can save your valuable time and high cost related to hiring in-house employees by outsourcing the work to a freelancer or third-party company. Today, most of the companies outsource product development as a startup.
5. Concentrate on Core Business Functions
Being a startup, outsourcing is a great way to focus on your core business functions or tasks that require your immediate attention. By outsourcing non-value adding tasks that are repetitive and time-consuming, you can work on the other important organizational tasks such as working on idea innovative product ideas, evaluating the market competition, new marketing tactics, etc.
6. Work on Multiple Projects and Costing
When you outsource in-house tasks to third-party business or freelancers, they charge you either on an hourly or per-project basis. The cost incurred to you in any of these outsourcing payment options is less when you compare it with an in-house employee salary. Hence, this gives you an opportunity to work on multiple projects concurrently with zero work delay and quality issues.
Final Words
To sum up everything, it can be easily said that outsourcing serves as a great boon for startups and small-sized companies from different sectors or areas in terms of increasing their overall work productivity and improving project outcomes.
Outsourcing allows startups to save their valuable time and costs by hiring experienced third-party companies or talented freelancers for doing non-value adding or repetitive tasks. It also gives an opportunity for startups to focus on core business functions, increase organizational productivity, maintain timely delivery of projects, and work on multiple projects concurrently with minimal time delays and quality issues.