Blockchain is a technology that is the driving force of innovation. It has the potential to transform several industries. These days, the industries such as healthcare, finance, IT, retail, real estate, supply chain, and logistics are using blockchain technologies to add a layer of security to their processes.
In addition to security, the technology has increased business transparency and agility, which in turn have helped companies by achieving customer satisfaction and retention. Owing to such benefits, the adoption of technology is witnessing further inclination.
While Artificial intelligence has made a similar impression on businesses today. The technologies based on AI, such as Chatbots, have revolutionized business responses and upgraded the customer experience.
AI has impressive features, which drove paradigm shifts in the industries. Owing to its excellent responses, the technology made a space for itself in the core of every business and every industry – finance, healthcare, retail, and others.
Businesses under the influence of both technologies have been encouraged to use them together to create more impact. According to a report by Market Research Future, the market for Blockchain AI is expected to value USD 785.8 million at a stellar CAGR of 20.71% by 2026.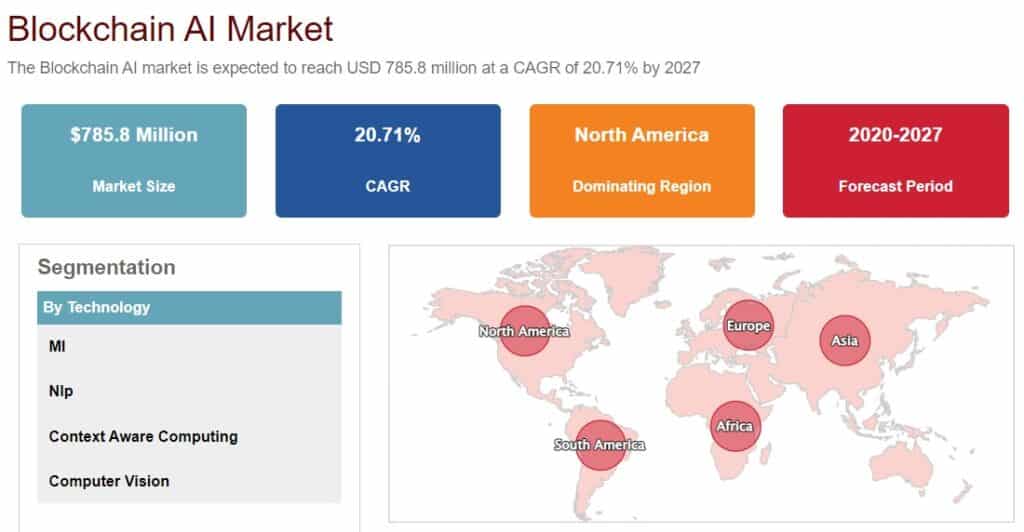 How AI can add value to Blockchain
The integration of AI and Blockchain results in possibly the most trustworthy technology-enabled decision-making system ever created, one that is essentially tamper-proof and offers dependable insights and conclusions. It has various advantages, including:
Smarter finance
Transparent governance
Intelligent retail
Intelligent predictive analysis
Digital intellectual property rights
Globalized verification systems
Innovative audits and compliance systems
Benefits of Co-evolution of the Two Technologies
Faster decision-making
The co-evolution of AI and Blockchain technology will enhance the decision-making process. With its straightforward and secure data auditing procedure, Blockchain will aid in enhancing the accuracy of the data used for fraud detection by AI algorithms. On the one hand, AI algorithms would help to detect the frauds and dangers linked with any transaction or app.
Greater credibility and Enhanced usability
By combining the two technologies, users can examine where, how, and why their sensitive data is used without sacrificing their privacy or security. They will be able to audit each step of the decision-making process, increasing public confidence.
AI and Blockchain will reduce the inconvenience of using several payment methods. Although blockchain-based cryptocurrencies would remove the currency barrier and promote international trade, artificial intelligence (AI) will increase operational efficiency and guarantee higher securities while reducing costs.
Personalized, secure experiences
The tailored service provided to clients will be improved by combining AI and Blockchain. Blockchain will ensure the data is unchangeable and secure using the most excellent cryptography encryption approach, while AI will still deal with sensitive personal data. Instances where AI fails to provide clients with the appropriate individualized service will be avoided, thanks to this.
In other words, AI will give end consumers a more private experience on platforms such as Netflix using Blockchain-provided data. Blockchain can offer security through encryption.
New business structures
The advent of more modern business models is another advantage of dual technologies. All stakeholders can contribute immutable data to the Blockchain without worrying about who owns the network, enabling effortless access to the data of the whole business ecosystem. This will allow an AI system to learn more about the patterns, behaviors, and other aspects that affect how a business operates. Resulting in decisions that are more factually sound or, perhaps more accurately, newer business models.
Better monetization of data
The approval of the information is a further development that may be possible by combining the two technologies. The tech giants such as Google make significant sums of money monetizing the information collected. Information is being used against us when others decide how it is marketed to generate revenue for corporations.
AI firms will need to buy data from the data center owners directly for AI algorithms to grow and learn. Without big corporations abusing their users, the entire method will become much more honest than it is right now. Additionally, these data centers will make AI accessible to more small businesses. AI development and maintenance are unreasonably expensive for businesses that don't produce their own knowledge.
A better intelligent contract system
According to our Smart Contract guide, intelligent contracts have several advantages for a company, like increased speed, fewer disagreements, better data storage, etc. The complexity of the program, however, limits its application. Smart contracts will be able to encode and authenticate complicated business interactions on a blockchain thanks to AI's integration with Blockchain. As a result, more brilliant intelligent contracts will be created. Additionally, the self-executing agreements will offer several quality levels based on pricing fluctuations controlled by an AI-based system.
clever computing ability
You would need a tonne of processing power if you were working with a blockchain that was entirely encrypted on a laptop. For instance, the "brute force" strategy used by the hashing algorithms to generate Bitcoin blocks entails efficiently and methodically discovering all potential candidates for the answer and verifying that each candidate satisfies the problem's statement before approving a transaction. Imagine an AI-based algorithm that, with the correct training data, could practically hone its skills in real-time.
Now that this has been taken care of, it's time to investigate the idea further and ascertain how technology will affect your company.
Uses cases of blockchain AI
Healthcare
AI can boost nearly every area of healthcare, from exposing treatment insights and supporting user demands to finding insights from patient data and showing patterns. Organizations can collaborate to improve care while preserving patient privacy by using patient data on the Blockchain, including electronic health records.
Financial services
Through the creation of a trust, the elimination of friction in multiparty transactions, and an increase in transaction speed, Blockchain and AI are revolutionizing the financial services sector. Think of the borrowing procedure. Applicants give permission for access to personal data kept on a blockchain. Faster closings and higher customer satisfaction are facilitated by processes that evaluate applications automatically and confidently in the data.
Life sciences 
Blockchain and AI in the pharmaceutical sector can significantly improve clinical trial success rates and add visibility and agility to the drug supply chain. Combining advanced data analysis with a decentralized architecture for clinical trials makes it possible to automate trial participation and data collecting while maintaining data quality, transparency, patient tracking, and consent management.
Supply chain
Blockchain and artificial intelligence (AI) are revolutionizing supply chains across industries and opening up new opportunities by digitizing a paper-based process, making the data trustworthy and shared, and bringing intelligence and automation to perform transactions.
Conclusion
The Blockchain appears to be a natural partner for the future development of artificial intelligence, a trend that is here to stay. By fusing IoT, AI, and distributed ledgers, certain nations are currently working toward the idea of smart cities.
Blockchain is required by AI for data management and protection, as well as to explain its operation to humans. Faster transaction verification, less energy use, and "smarter" smart contracts are all advantages of the Blockchain.
We'll undoubtedly see more use cases combining Blockchain and AI in the next year or two. A report from Market Research Future shares more insights about Blockchain AI's evolution and market forecasts.