Many businesses find it convenient to use Mac OS for their business operations as it offers them robust features and great user-interface. Some of these businesses also use QuickBooks for their accounting and bookkeeping needs.
Although it may seem like the Mac version is designed to serve the same functionality as the Windows version, many critical features are absent from it. For example, features like sync manager and web connector are sourly missing in QuickBooks for Mac 2019.
Moreover, Intuit has also discontinued QB Desktop for Mac 2016 due to its underperformance as compared to QB Windows.
However, in the year 2019, QuickBooks for Mac has still got many users and they need better features in their QuickBooks.
But what if we say that you can now use all the features of QuickBooks for Windows on your Mac device?
Wouldn't it be exciting?
Well, yes, it is and it is only made possible because of Parallels Desktop.
Parallels Desktop is an application in Mac OS that allows users to use Windows on Mac. It creates a virtual machine that allows you to install any OS on your computer. Using Parallels Desktop, you can run any Windows-based applications on your Mac.
All the features of QB for Windows are now available on Mac. What remains untouched is the top-notch tech support for anything from a minor technical error to QuickBooks Mac upgrade.
If you use QuickBooks for Mac 2019 and wish to install Windows using Parallels Desktop, read below.
How to set up a virtual machine in QuickBooks for Mac using Parallels Desktop?
Here are the steps that will help you install Windows OS on your Mac.
Go to the Parallels Desktop application, tap on the File option, and hit New.
Select Install Windows/ another OS from DVD/ Image file and tap on Continue.
Pick an installation media, be it a DVD or a disc image. Here is a quick note for you, while installing Windows, you cannot use an image file having a .exe extension. You can only use it when you have already installed Windows and you just need to update it.
Once you have selected the installation media, hit Continue.
Now you will see a Windows product key window on the screen. Check the installation key and hit Continue.
What remains undone is to specify the reason for installing Windows, whether it is for playing games or boosting productivity.
Now you have to give a name to the virtual machine that has been created and give it a location.
Now that you have installed Windows on your Mac, install QuickBooks and you are all set to have the most amazing accounting experience. You will still have elite QB support for any technical and functional error or QuickBooks for Mac upgrade. You are now ready to enjoy the efficiency of QuickBooks for Windows without having to leave the convenience of Mac.
In case you need any help with your QuickBooks for Mac 2019, just call the certified experts of QB and they will get you through the problem in no time.
WHY YOU SHOULD USE QUICKBOOKS MAC 2019?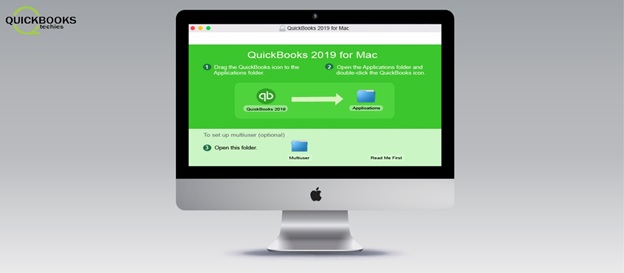 When it comes to storing all your accounting data, QuickBooks for Mac is no doubt, the best. Countless copies of invoices, track sheets, and other accounting documents are generated by Companies to be stored in iCloud and their system. This is possible only because of QuickBooks integration with iCloud that allows QuickBooks to sync all the documents without bothering a bit to your real-time workflow.
Here are a few more things you must know:
If you are worried about creating an invoice on your smartphone do not worry at all because you can get back to exactly where you left at QuickBooks on Mac.
Even if other users are creating an invoice, you can check that right away in real-time collaborating with the others and helping them out with their mistakes.
Once you know about the software you are using, it would be the easiest to use it and sync all your documents with iOS. If you are doing it yourself, follow the below steps for installation and upgrading your software.
If you do not want to risk it, call our QuickBooks support phone number and our team of experts will help you with that.