Today, virtual career fairs and virtual job fairs have become an integral part of the recruiting industry. Top leading organisations, hiring managers, and recruiters are leveraging virtual fairs to tap the top talent across the globe.
Whereas busy and experienced job seekers are more willing to participate in virtual job fairs as it enables them to tune in from their respective geographical locations.
Virtual career & job fairs resolve the hassle of traveling and having a word with the recruiters. It enables recruiters to explore the most qualified candidates suiting the job role.
The worth of face-to-face interactions and handshakes during job fairs hold its own impact. It will always be part of robust event management. But today virtual fairs have closely replicated all. The number of increasing virtual fair platforms on the internet nowadays says it all.
Today, the internet is piled up with an endless number of virtual fair platforms that offer 3d virtual event setup along with engaging and interactive tools. As the world has gone digital attending a virtual career fair or virtual job fair has become the first choice of jobseekers.
To get hired by the top leading organizations for the next job, jobseekers must attend a virtual career fair. Organizations host the virtual job or career fair on a comprehensive virtual fair platform.
They host interactive sessions to tap the most qualified candidates they would like to interview. Universities are leveraging virtual career fairs to tap the students worldwide and have 1:1 interview sessions with the most qualified ones.
In this post, we have listed some tips that all job seekers and students must know before attending a virtual career fair. We have broken a to-do list for before, during, and after virtual fairs. Let's get started!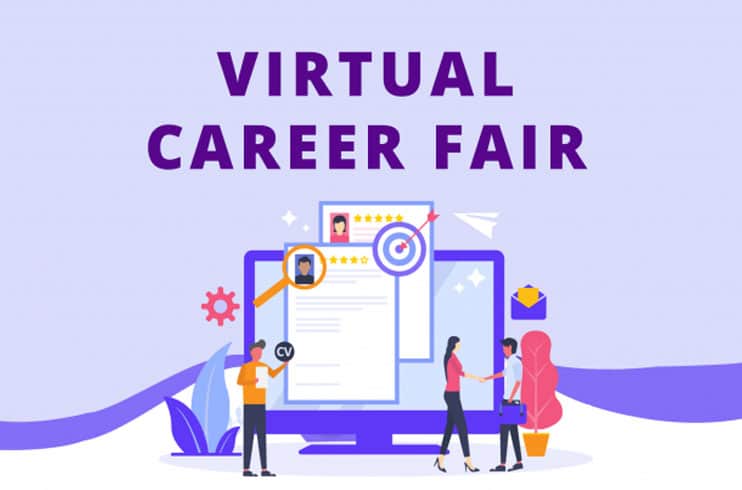 Some Tips to Prepare for a Virtual Career Fair
1. Create your profile
Create or update your profile on a virtual fair platform. It is the first step towards getting noticed by the recruiters. It helps the profile to come in the top searches and get recommendations for the job roles that best suit them.
The completed profiles enable recruiters to find students or experienced professionals and invite them to the sessions. Do not let yourself be left out in the line with an outdated or incomplete profile. Ensure that the basic details you mentioned are accurate.
Select the job roles and the locations that best suit you. It helps recruiters gain an insight into the roles that best suit you and are a good fit. Do not forget to add your prominent skills and the year of expertise you hold along with previous work experiences.
2. Look out for the employers who are hosting sessions
Have a look at the landing page that contains a list of employers. It gives better clarity about the employers who are participating in virtual career fairs. It allows you to access the employer profile and know more about them. You can read reviews of other job seekers or students. It enables you to know the date and time of the session and decide upon which you would like to attend. Make it a point to tune-in early for attending sessions with the preferable recruiters to get a guaranteed spot.
3. Do proper research about the employers
Once you decide to attend a virtual fair session for an employer, it is advised to do proper research. Before just signing up for a virtual session, check their website, and look for all the relevant information. Search for the latest news and articles referring to the employer. It helps you in gaining better knowledge about the employer and asking the relevant questions during sessions. With proper research, job seekers can have time to figure out the questions and have conversations in 1:1 sessions.
4. Prepare for talking points you want to converse
The employer sessions you wish to attend want to know more about you. Create a pitch that best presents yourself. Create a short brief about yourself containing previous experiences, career goals, and so on. Prepare for all the relevant talking points you want to converse with the recruiter. Practice in front of a friend or record it to overhear and correct any mistakes.
Tips to practice on the day of a virtual career fair
5. Dress up in a professional attire
While attending a virtual fair you are not meeting employers in-person. It makes you feel like ditching your suits and collared shirts for attending a virtual career fair. As we know the first impression is the last, dressing up professionally helps in making a brilliant first impression. Wearing professional attire helps in boosting the confidence of the individual and reflects a confident personality to the recruiters.
6. Limit the distractions and find a quiet place
To attend a virtual career fair you need to plan ahead of time. Find a place that is quiet and free from unnecessary distractions. Make sure the background behind you is plain and neutral. It helps in keeping the recruiter's eye focussed on you and not on the surroundings.
Tips for Virtual Career Fair During Sessions
7. Arrive on time for a virtual career fair
Arriving on time showcases your punctuality and time management ethics to recruiters. It is very important to arrive on time for the selected sessions. Being punctual creates a lasting impression on recruiters that you are responsible, dependable, and value time.
8. Listen to the recruiter and maintain eye contact with them
Do not sit like a robot during virtual fairs. Same as in-person fairs, keep smiling amid sessions and nod occasionally during 1:1 conversations. Do not get distracted from the screen and listen actively to what the recruiter says.
9. Ask questions during sessions
Prepare a list of questions to ask in each session during virtual career fairs. While attending a virtual fair, sit with a pen and paper. Write down the questions that click suddenly during interactions. Ask questions freely with the recruiters.
Tip for Post Virtual Career Fair
10. Apply to open jobs positions
Look out for the open job positions once the meeting with employers ends. If a job holds your interest, but you are not yet ready to apply, save it. You will get notifications every few days to apply before the end date.
Do you want to read more about technology? Check out these articles.