We all are aware that customer relationship is the critical key aspect throughout the business journey. CRMs are one of the robust tools these days that can be beneficial for accelerating businesses while enabling easy collaboration, automating operations, synchronizing data, and more.
Also, a survey reveals that adaptation to Customer Relationship Management technology is expected to increase to $43.5 billion worldwide by 2023.
Customer relationship management is a structured approach to build, handle, and maintain strong connections with customers. In simple terms, CRM software helps you track all the encounters with the consumer throughout their journey. Furthermore, it serves as a central hub for businesses, ensuring security, integrity, and scalability of consumers communications.
Customer Relationship Management Importance
Every successful business these days knows the significance of CRM. It provides the firms with a unified platform to easily handle the clients, aligns the marketing efforts, automates daily operations, and delivers quality customer assistance.
Furthermore, the customer relationship management tool enables organizations to improve workflow and drive increased sales. The best part about these software solutions synchronizes with varying apps like Gmail, Microsoft Outlook, and more.
Focuses on Consumer Needs
When the businesses see a rapid increase in expansion or sales, a sudden up and down in the leads is likely to happen.
But integrating an effective CRM system can help you eliminate such chances of decline in sales as they are designed considering the user experience. In simple terms, CRM software focuses on everything you do around your consumers.
For example, it aligns all the business operations that your sales representatives, marketing experts, and customer support teams perform. As a result, it enables businesses to focus on company objectives and meet consumer requirements.
Easy Collaboration Between Marketing and Sales Teams
Cross-functional team collaboration is critical to achieving business success. Such collaboration helps in simplifying all the phases of the consumer journey.
Here, the internal sales team is responsible for delivering the customer data so that the marketing team can put in their best efforts. As a result, customers will have a seamless experience buying from your brand and will become loyal customers too.
Simplified Synchronization and Data Sharing
CRMs are responsible for simplifying the tasks such as sharing data or synchronization. For example, in earlier times, updating the customer information like name, phone number or address manually was time-consuming.
But today, no matter if it is just a contact name or number or finding who talks with certain users, all the details sync up and update the system automatically. You can modify the data your way and track whatever you want to. For instance, new leads, repeat customers, conversions, and so on.
Furthermore, such synchronization of data and efficient collaboration among the teams allows easy access to accurate information.
This way, you can deliver an exceptional user experience without any hurdles and automate most of the time-consuming efforts.
Excellent Customer Service
To track all the customer data and other analytics and reach the target audience, integrating CRM software is critical.
For example, a user visits your site and is interested in your product/service as they clicked on your contact details or email option. As a result, having the CRM system will allow you to easily communicate with the consumers and better determine their needs.
This means you will be able to deliver your consumers an invaluable experience and retain customer loyalty.
Consumer Interactions Made Simple
There are enormous opportunities to engage the visitors or reach the target audience online like social media, live chat, or video call.
CRM solutions available in the market these days are capable of meeting the challenges faced by sales representatives or marketing teams.
For example,
You can track calls or assign the calls
Handle customer queries via live chat
Utilize CRM to monitor business questions on social media
Enable email tracking, automates marketing campaigns, and take on-time follow-ups.
Top 10 CRM Software in 2023
Here is the list of top 10 CRM software in 2023.

Salonist is a leading salon CRM software that caters to businesses of all sizes with a diverse set of features and functionalities. It enhances everything from brand exposure to revenue, time management, and more.
Features:
Online bookings and inventory management
KPI reporting, notification/alerts, and online payment gateways
Loyalty system, email marketing, SMS campaigns, and more

HubSpot CRM

A well-known and free CRM tool by HubSpot enables businesses for effective lead management. Furthermore, with the HubSpot CRM pro version, the sales representatives get access to core functionality like tracking conversions, content management, and more.
Features:
Live chat
Categorization
Search
Performance Metrics
Freshworks CRM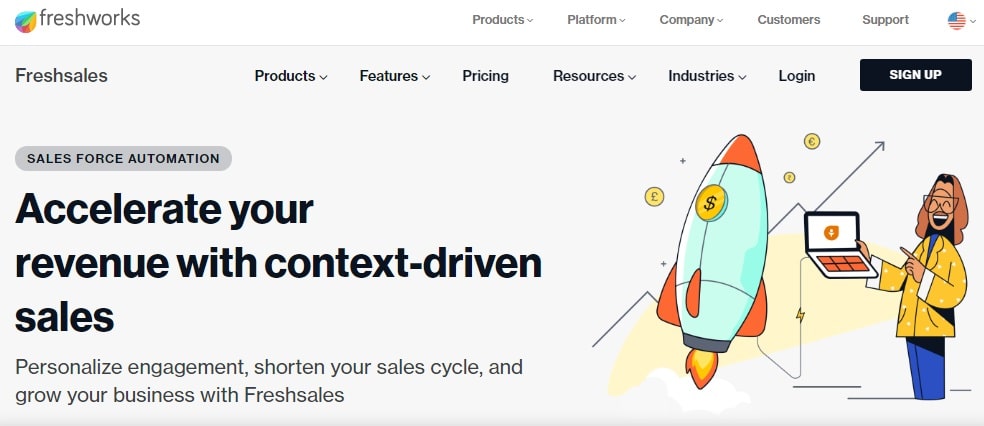 This CRM software is perfect for all-size businesses as it incorporates solutions for both the marketing team and sales representatives for improving the consumer experience. Moreover, this software solution enables staff to interact among themselves or the consumers leveraging a variety of channels.
Features:
Customer Support Analytics
Performance metrics
Knowledge management
PipeDrive
The most popular CRM tool of all in the market is PipeDrive. This software focuses on the sales pipeline to keep the transparency of leads, conversions, and increased profits.
Features:
Easy access to interface anytime anywhere
Leads and conversions layout
Free trial to assess the benefits
Salesforce CRM
Salesforce CRM lets you close the activities or deals conveniently. All business sizes can implement this CRM to boost sales and automate the business tasks, resulting in informed decisions.
Features:
Track leads and examines conversion rate
Seamless cloud storage and analytics capabilities
Search, customer assistance tracking, and metrics
Zoho CRM
The customer relationship management tool by Zoho enables the firms to shut the deals, streamline the tasks, and have control over the processes. It also lets the organizations communicate with the user via live chat, email, or video call.
Features:
Integrates with around 400 apps
Automates important tasks associated with sales, marketing, and user experience
Reduces operational costs
Agile CRM
One-stop CRM solution to avail the features and functionalities you are looking for. It provides deal management, virtual appointment booking, contact management, and so on.
Features:
Email marketing and social suite
Mobile marketing and knowledge management
Self-service portal
Netsuite CRM
Netsuite CRM is software designed by blending both the traditional and modern CRM abilities. With this tool, you can access customer interaction records and other vital data.
Features:
Marketing support
Excellent customer assistance
Affiliates and salesforce automation
Yetiforce CRM
Yetiforce, an award-winning tool, can be customized to any business requirements. You can also integrate the Yetiforce CRM with third-party libraries to deliver extensive outcomes.
Features:
Equipped with 80 admin tools and 80 user modules
Customer service analytics
Customer support tracking, Self-service portal, and live chat
SutiCRM
Businesses can integrate SutiCRM to handle consumer interactions and their vital information. Also, it automates the marketing processes and other consumer assistance activities.
Features:
Boosts partner and supplier interactions
Provides metrics, custom support, live chat, and more
Lets you understand the user needs and integrate the CRM accordingly

Boost Business Efficiency With CRM
Once you understand the importance of integrating CRM into your business, you will never stand behind in meeting the consumer needs or raining your company profits. So, choose the right tool based on your team requirements and get started.
Thanks for Reading!!