Say Goodbye to long queuing congestion. With modern technology, it has no longer be difficult to manage long waiting queues of customers. Long queues are one of the biggest problems to run a smooth business operation and provide customers a satisfying customer service experience.
If you are not handling your customers and managing them on time, then you are losing the most valuable asset of your business whether it is big or small.
So, it becomes necessary to manage long waiting queues, if you want to boost business productivity and gain customer's attention. Maybe you've tried a lot of different ways to manage your customer's long waiting time or queues, but today, we've got the top-picked ways for you.
Before moving ahead to the top ways, it's crucial for you to know how your business can face challenges if you are not pleasing to your customers. As you know, the foundation of any business relies on a strong customer base. As many as customers, you'll have in your organization as much as you'll be able to explore your business or services. But what results you are going to achieve, when you don't have such a strengthened customer base.
Customers are happy when they get what they need. Let suppose, the customer is coming to you to get your services and you treated him so well by offering him the best version of your services, the chances might the same customer will come back again.
Alternatively, if you ill-treated that customer, not serving him properly, not giving him the solutions he seeks, then you will lose that customer forever. So, customer satisfaction should be your first priority to serve. Now, let's move to the best ways to provide the best queuing services to your customers.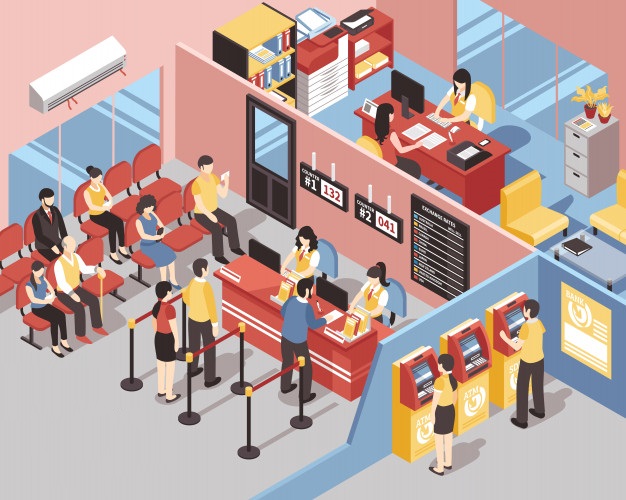 Value Your Customer's Time:
When customers come to you to get your services, let them feel that you value their precious time. Gone are the days, when customers can wait in the long-standing queues to serve their turn, but now everything has changed. Customers want quick results. And with that, they are also extremely quick to make complaints, if not served well.
If your staff if busy somewhere or there has become a long waiting queue of customers, then each customer will think their time is being wasted. They will search for the same services as your and go there to get them right away.
So, who lost customers? Only you!
Here's at this time you need a proper arrangement or process to serve your customers according to their priorities. Using Queue management software, you can easily manage your customers' waiting time and offer the best queuing services.
Have All Information at Your Fingertips:
Once you got a request from the customer, you should immediately respond. But the hard truth lies between unsuccessful business and poor customer satisfaction is improper services or late response to customer's queries. That, in general, should be a top-notch priority for every business person. So, as a business owner, you should keep all the essential information on your fingertips.
So, whenever you need it, you will get right away and serve the customers. Instead of gathering all the information from different sources, why don't you use management software?
It will give you a detailed view of the customer's profile and allow to resolve their queries straight away without any delays. The quicker you know your customer's details, the faster you will be able to serve their needs.
Identify Your Service Level Target:
Identifying your service level targets can help you manage customers well. You know how? Let's see!! Well, when you analyze the demand for your services, and a number of customers interested in your services, then it becomes easy for you to track the overall business analytics.
Like, how many staff members you need to utilize for that particular area, how many are coordinating with customer needs, and how many are busy in regulating the pending customer's requirements.
When you have a proper analysis of all these, you will be able to reduce customers' waiting time as they waste by standing in long queues. It will enable your staff to listen carefully to every customer's needs and take quick action in favor of them. It will keep them happy and change the way you manage your staff and customers.
Place Your Services Ahead Of the Competition:
To beat the crowded competition in the market, customer satisfaction is the best approach. If you are satisfying the needs of your customers, then you will be able to stand your business apart from the others.
As you know, in the fast-growing market, many business persons are serving the same services, brands, products like you. Then set up your business apart from others will help you get more customers and more sales leads.
Using queue management software, you can be happy with your customers by managing their long waiting time, sending them the remainders for interacting with you, enabling them to generate a ticket number for their turns to be served and many more.
This way when you will well serve your customer's needs, they will happily come back again to get again your services whether it is related to banking, clinic, retail or educational institutions.
Be Dynamic:
Presenting information in a dynamic and interactive manner can please your customers. Entertain your customers while they're waiting to serve their turn, either through digital signage or kiosks. Because of the decreasing sense of waiting time can increase the level of customer satisfaction.
It is to be revealed that when customers feel enjoyed with the provided services, they will definitely get connected with for more services to get in the future or recommend many others too. That will make happy your existing customers and generate new leads. It will boost your business and increase the customer's satisfaction level while taking your services.
Find Inefficiencies:
When you start analyzing where you lack in providing the best queuing services to customers, you will win the game. It should be your responsibility or daily task to analyze why customers are disappointed with your services, where you are lacking in pleasing them, why you are unable to reduce their waiting time, and why they are going somewhere else to take services as you. Do you think, you will analyze all it on your own? Never!
It will take so much time. Whether you ask your one of the staff members to keep track of all these essentials or will try to handle on your own. Putting your own efforts is good but it just a waste of time especially when you can take advantage of technology. Using a smart customer queue management system, you can find inefficient in your business and track performance hassle-free.
Enhance Customer's Waiting Experience:
If your customers are waiting to interact with you, then it should be your responsibility to uplift their waiting time experience. If they are sitting in your waiting area, then make sure you are making it comfortable enough that they can wait for several hours.
Test out waiting for area's furniture, keep some magazines or books to read, busy them through visual distractions like news or entertainment channels on TV, opt for right lightening bulbs, bring plants or greenery, and offer them some coffee, tea, etc.
Waiting seems to be less, if we are devoting our time to some other activity and the same should be applied to the customers.
So, even though, you serve fewer services to customers but always try to serve those in the best way possible. It will help you serve them best-queuing services and build a healthy customer-client relationship.
Make Changes & Improvement Over Time:
Uncover operational bottlenecks and changes can lead you to improve your business. Investigate situations, measure the store's performance, recognize new trends & outliers, and introduce fast service time.
Making changes over time in your business will improve its productivity and generate better revenues.
Apart from that, also try to analyze in which areas your staff required more training to deal with customers patiently and how you can achieve better throughput from it.
Reduce slower steps like transactions, long waiting times, and reviewing day-to-day operations that can impact both your business and customers.
Enable Your Customers Help Themselves:
Enable your customers to resolve their issues on their own. Using the best customer service software, you can allow your customers to tackle their queries on their own that they can.
Just build a customer center in the software where your customers can log in and view the history of their requests. After login, they will also able to ask questions, get information from the FAQ.
Once you provide them the platform to self-service, they can track what they need and help you reduce queueing requests.
Are You Ready to Provide the Best Customer Queuing Services?
Maybe you've tried a lot of methods to provide your customers with reduced waiting time & best queuing services. But only a few of them were worked well.
Now, you can follow the above-mentioned ways cum tips to improve queuing service experience. Using Qwaiting software, you can manage your customer's long waiting time, enabling them to resolve their queries on their own, fulfill their requests to interacting with you, and ultimately provide them the best version of your services.
If you are thinking, how Qwaiting helps you improve your customers' queuing experience, then get in touch with us. We will explain to you each and everything about Qwaiting.