Creating great websites isn't a one-day show. Your website must stand ahead of the competitors in terms of content and design, regardless of your business niche. The characteristics of a great website include easy navigation, functional, elegant, user-friendly, and so on.
Furthermore, visitors will abandon your site immediately if it fails to capture their attention. As a result, designing excellent web pages is important. As a result, the simplest method is to use the WordPress Page Builder plugin to edit or design your site.
Do you know what a WordPress page builder does?
A WordPress website page builder gives you access to all of the resources for creating stunning web pages. Also, a page maker includes an administrator GUI, giving you complete command over your website. However, unlike the default page editor, the page builder provides drag-and-drop functionality and easy element configuration. Several page builders also provide premade pages that only require content. Also, consulting the right WordPress web development company comes as the solution.
Therefore, to achieve a seamless experience designing your business site, we have shared the popular page plugins below. Pick the one that best meets your site's requirements and get started.
List of Free WordPress Page Builder Plugins
Beaver Builder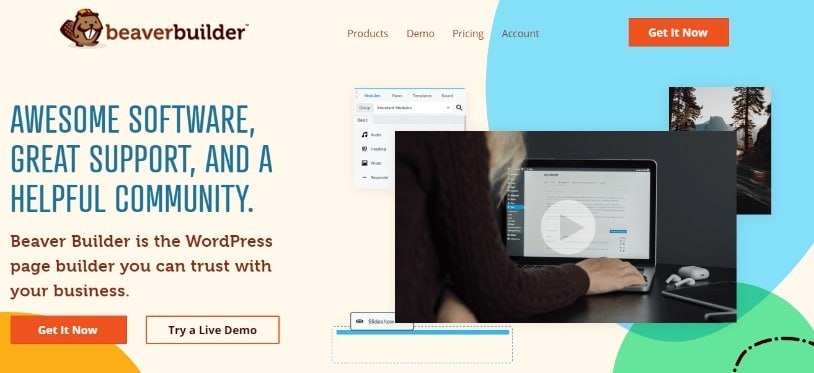 Beaver Builder is an exceptional drag-and-drop plugin with a frontend editor that is simple to use. Even if you're not a coding expert, this editor offers a simple editing experience so you can easily build your website.
Interface: Beaver builder serves website building in two distinct ways. Firstly, use the floating Content panel, which you can move around. The second choice is to drag the Content panel to the browser's left or right sides. This way, the left side will enable you to add and customize components, and the right side will produce the outcome.
Elements Offered: Beaver Builder has only five modules: photo, HTML, video, audio, and text editor. It also has a range of WordPress widgets to choose from. Thus, adding a few more tools to the mix.
Styling Options: According to Beaver builder, styling is the theme's responsibility. You can create a unique layout using Beaver Builder's choices. However, no page styling functionality is offered. You can customize unique rows or columns with text colors, but no family or size styling is possible.
Elementor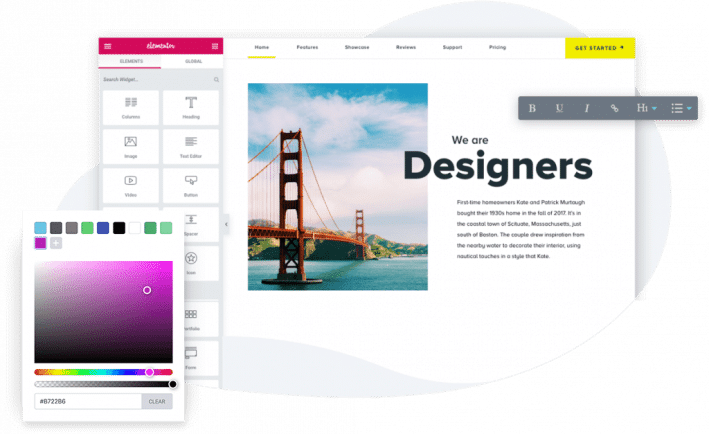 Elementor is one of the best free page builder plugins in the market, offering advanced functionality and completely customizable features. Providing pre-built 100 templates, designing alluring WordPress is a breeze.
Elementor's drag-and-drop, instant live edit, and additional features allow you to create high-resolution websites. Furthermore, Elementor has a user-friendly interface that anyone can use, regardless of whether they are a developer, a marketing expert, or a designer.
Shape Dividers, Headline Effects, Box Shadows, Hover Effects are some skilled features offered to build powerful designs.
Available Elements: To blend into a functional website, page builders must offer at least the most basic elements. Elementor allows creating headings, images, texts, buttons, and so on. Additionally, you are provided with widgets such as the counter, the image carousel, progress tabs, and more.
Additional Elementor Features:
Translated to 50+ languages
Offers 100+ predesigned blocks and templates
40+ free widgets
Open source and free page builder plugin
SiteOrigin Page Builder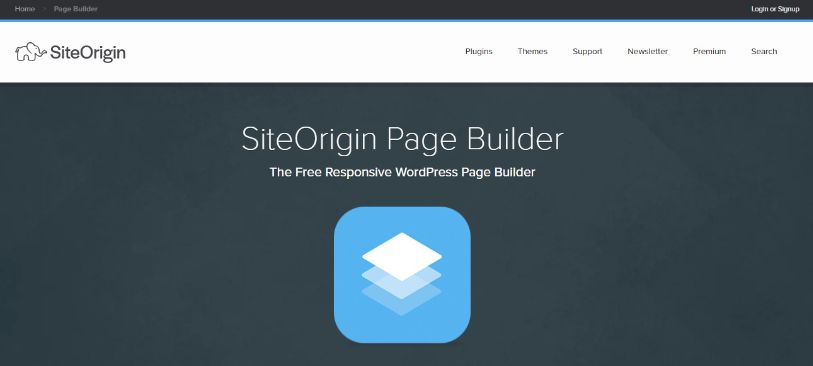 SiteOrigin, like Elementor page builder, is a perfect website builder that is responsive and easy to navigate across multiple devices. It offers a few premade columns and row templates to pick of your choice. However, you have complete control over deciding the capacity and size of rows and columns to implement on your website. SiteOrigin page builder provides you with a variety of widgets to help you develop responsive pages that meet your design requirements.
An administrator interface comes standard with a page creator, giving you complete control over your website. It offers you drag and drop functionality so you can design pages and quickly and easily customize elements on your websites. The widgets offered by SiteOrigin Page builder involve social media, Google maps, and so on.
Additional Features:
Enables live editing
Available in 17 languages
Saves history of new changes made
Enormous widgets offered
Brizy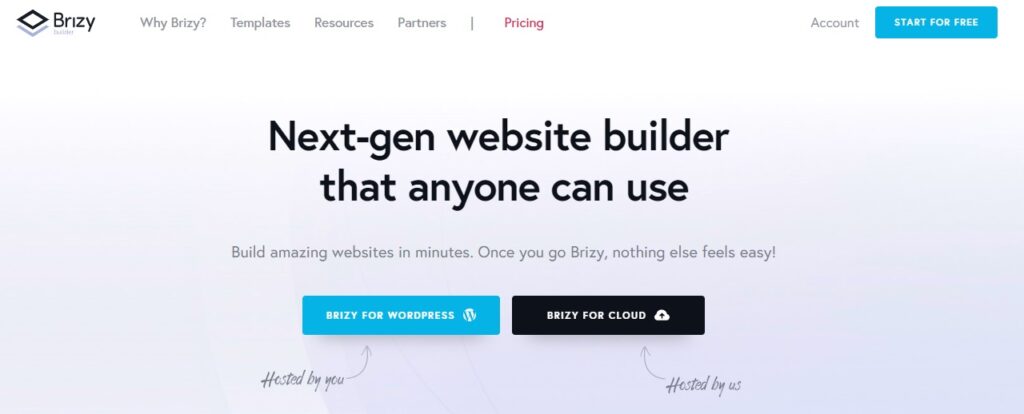 With the Brizy plugin, coding knowledge is no longer needed. This builder uses a drag-and-drop GUI to make editing as simple as possible. Several editing choices for unique elements are offered to you to achieve a visually pleasing, well-organized, and simple-to-use interface.
Elements Offered:
Brizy offers 150+ readymade blocks to make your work even easier. Furthermore, it provides drag and drop features allowing you to design the website just by dragging and dropping the objects. It includes a variety of elements such as text, videos, photos, buttons, icons, and so on to design pages with a unique appearance.
More Features:
Responsive and mobile-friendly
Autosaves the changes
Pre-built 15+ blocks
King Composer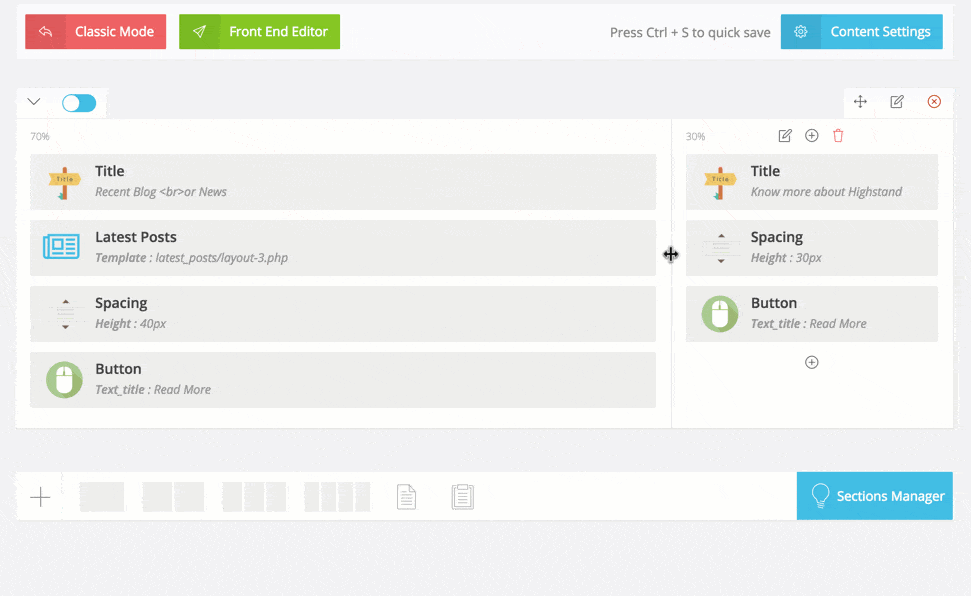 KingComposer is a well-designed page builder plugin with impressive features that earns it a spot on this list. You can create and format your pages with an amazing CSS framework.
KingComposer provides a library for your website that can be used to save improvement proofs made to any portion of your websites, such as the sidebar, header, or footer.
KingComposer, unlike Siteorigin's website builder plugin, restricts you to maximum 5 columns usage. Furthermore, it offers compatibility with third-party plugins adding to your website widgets. After using this plugin to build content on your website, you can uninstall the plugin without losing website quality or content. KingComposer can be used to create themes as well. Isn't it great!
Gutenberg Page Builder

Gutenberg is a basic but effective tool that WordPress provides for creating attractive pages.
It's a drag-and-drop visual editor with all of the work done on the backend.
Gutenberg possesses an online editor that is intuitive to use. In addition, there is no need to build any elements first. Gutenberg can automatically design headings, paragraphs, and lists.
Below the Pattern tab, Gutenberg provides a few block design options. These are basic but attractive templates that can help you get started. Furthermore, the choices aren't wide but can help you design your site pages.
Styling Choices
The elements in Gutenberg have just a few styling choices. The font size, color, and background color can all be modified. However, these benefits are practical and enjoyable to have.
WP Page Builder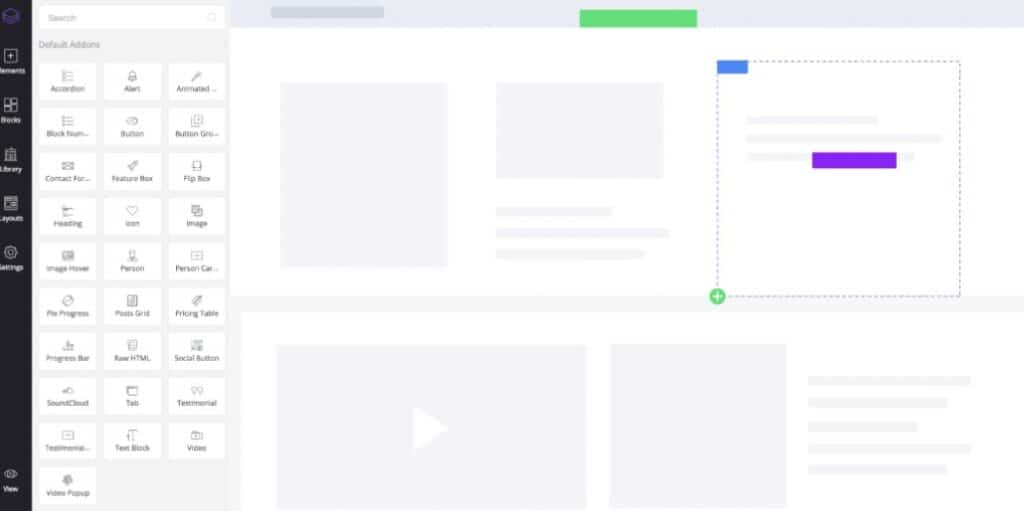 WP Page Builder is a plugin comprising all of the features required to create a beautiful website. This plugin allows you to quickly add blocks to your website with fantastic results, whether you're a skilled developer or a freelancer.
To begin with, WP Page Builder holds attractive templates for a variety of niches. Additionally, you have unrestricted access to above 340 IconFont icons further as well as 670 Font Awesome symbols. Also, background parallax can be used to create unique website pages and increase interaction with visitors.
Additionally, the simplicity of WP Page Builder is matched by its flexibility and functionality that you can try for free. To increase your traffic, this page builder also allows you to create SEO-friendly sites. All in all, it's a real-time webpage creator that makes your website appearance alluring.
Live Composer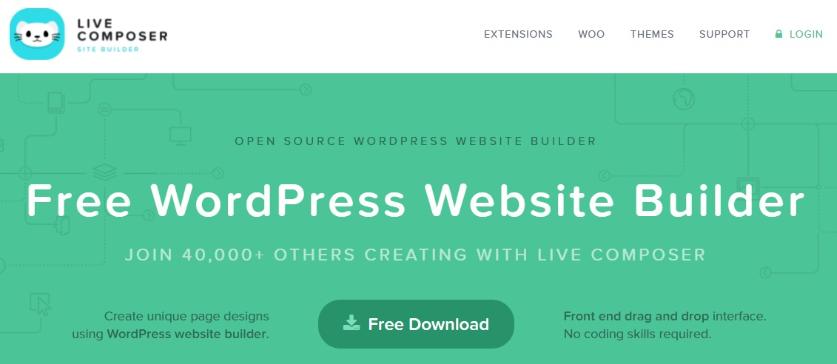 There are numerous reasons why to use Live Composer if you want to make a great website quickly. It is a free drag-and-drop builder plugin that is great for any niche website and saves money and time.
Live Composer, like the other page builders, shows you the improvements you create in real-time. Your mobile-friendly website's page elements will look great on any device. Live Composer is Gutenberg-compatible. This feature ensures that both Gutenberg plugins and the WordPress block editor are compatible with your business website. Furthermore, every WordPress plugin developer, designer, WordPress theme creator, digital marketing specialist, and freelancer would find it useful and compatible.
Additional Features:
Mobile responsive
Widget and feature-rich
Easy usability
Pootle Page Builder

Pootle page builder offers several impressive characteristics and widget choices that give the website a distinct and well-known online presence. It allows you to edit pages and modify them as required without any restrictions. Anyone, whether a pro or a beginner, can create a beautiful WordPress website and pages in no time.
Features Offered:
Live drag and drop designing
Allows text editing
Provides CSS customization feature
Easy to create rows and columns
Final Conclusion
It's never easy to find a free Website page builder plugin. Options are endless but all vary in features. Additionally, you may pick the wrong plugin for your website page building. So, which Page Builder plugin would be best for your website? Any of the shared plugins above could be the perfect fit for your webpage building requirements. Brizy, for example, is the way to go if you need a page builder with several icons. Elementor, on the other hand, can be preferred if you need to design a website that supports WooCommerce. Furthermore, the detailed features, styling options, and differentiators shared for every plugin will help you make the right decision.
Surely, we've made your work a little easier. Pick the best free WordPress page builder and get started. Designing the website with any of these page builders will be simple and quick. Thanks for reading!