Security is very important concern for an ecommerce website in 2023. If you want to secure your ecommerce website, you will find the best solution here.
In the era of comfort, luxury, and easy-going shopping, the shopping experience has become so smoother and easier for every user. Retailers or e-commerce owners have found their way to reach out to the wide spectrum of an audience with their e-commerce website or mobile application.
However, we think life is sorted if we get our duty done by just fulfilling customer's expectations and getting their checklist done by providing indeed products or services. But, here you are slightly wrong.
The users will only land on your website if you gain their trust by just not fulfilling their needs, but also providing a safe and secure check-out process and customer experience. Some of the start-ups or e-commerce companies often lack the expertise to tighten their website's security. This is why the top e-commerce website development companies are working tirelessly to provide apt and secure solutions to their clients.
We've seen that many e-commerce companies lose thousands of dollars after failing to implement e-commerce website security features to safeguard their online stores from hackers and fraudsters.
Somewhat, it's believed that the internet is a dangerous place to host a business. Also, as per the report, by 2023, online retailer fraud is projected to hit $130 billion.
It's not just about the payment security but just think about the thousands of users' personal information, IDs, product details, catalog and prices, financial information including credit and debit card. That's what makes e-commerce sites, big and small, so attractive to cybercriminals to exploit and competitors to leverage on.
If you own an online store, the increased threats we've seen to online security are probably particularly troublesome as you map out your website strategy for 2022.
Fortunately, there are several simple ways you can protect your online store and increase your site's security to significantly decrease the chances of cyber-attack.
How to Secure Your E-commerce Website From Cyber Attacks?
1. Choose a Better E-commerce Hosting Service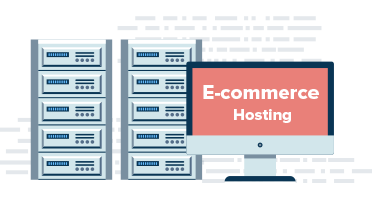 Yes, you spent plenty of money on building your website designing, optimizing, and promoting as well. But let us ask you, are you risking it all by choosing a low-cost hosting option?
You are losing everything if you choose a cheap hosting service. It's like you own a Mercedes, but you are taking it to the local garage for repair.
Choosing the right web hosting service for your e-commerce website is important and security should be the top priority. The most important thing is that your hosting service must have a good backup service so that your e-commerce website can be easily restored after a security breach.
However, hosting service providers may vary and offer various features as well. Some offer dedicated servers with robust capacity, so threats like DDoS attacks can be prevented. Some are simply better made than others, offering fewer potential vulnerabilities to exploit and issuing patches more regularly.
Ensure that the web host you choose has maximum uptime, 24×7 operational time, and has RAID data protection that creates a back-up copy of your website on multiple disks.
2. Use HTTP with SSL = HTTPS
This is the best thing to make your website secure by integrating AlphaSSL Wildcard Certificate to your website to prevent online frauds. Once you purchase the certificate from the SSL vendor, all you need to do is to install on your website and change the settings on your website.
HTTPS (HyperText Transfer Protocol Secure) is the online protocol for secure communications over the internet and one of the easiest ways to help secure your e-commerce site from fraud.
Google always gives priority to the websites who are secure and SSL integrated. Thus, they get more visitors. HTTPS is essential for security and protection as it creates a secure link between the user's browser and your server to prevent hackers from stealing your data.
3. Choose a Secure E-commerce Platform
Before choosing an e-commerce platform, you are responsible to look for various factors such as support, performance, features, and obviously security. However, security must be our top priority, otherwise, all of the previously mentioned factors will be useless. So, to make your website more secure, you have to ensure that your e-commerce platform uses secure payment gateways, releases security patches, and includes shipping method extensions.
Look for proven e-commerce solutions that provide encrypted payment gateways, SSL certificates, and solid authentication protocols for sellers and buyers. You will find many e-commerce platforms to choose from these days. You need to be sure that your choice of e-commerce not only performs well but also provides secured services and updates itself regularly.
E-commerce platforms like Magento, WooCommerce, and PrestaShop are popular platforms, but popularity comes at a price.
Hackers are always looking for vulnerabilities in these platforms so patches and security updates are constantly being made available.
4. Don't Store Sensitive Customer Data

It's also risky if you store your customer's sensitive data like their credit or debit card information on your website. If your systems are compromised, then it's chances of losing your customers' trust. If it's not required, kindly do not try to store that data.
To prevent the attacks and fraud, don't store sensitive information if you don't have to. Obviously, this is not easy for subscription-based websites, but most sites should try to avoid storing payment information or personal identification information.
You can also use the process of tokenization. Tokenization generates random numbers to store customer information and that's known as tokens. It helps prevent credit card fraud.
5. Run Vulnerability Tests On Your Website
If you identify potential vulnerabilities on your site on a regular basis, that will help you maintain a secure site with as few points of entry as possible.
The best way to keep up on vulnerability testing is to set up an automated process using scanning software. It scans your e-commerce website and leaves you with few opportunities for hacking. The right programs will scan your network and website to identify risks and generate prioritized lists that tell you
E-commerce platforms with various tools allow you to scan for vulnerabilities. The better and right program will scan your network and website to identify risks so that you know the risks and issues that should be addressed and fixed.
If you are unaware of how vulnerability scanning works, you should check out a few free programs first to get started. Some of the renowned scanning programs are Retina CS Community, OpenVAS, and MBSA.
6. Keep Your Website Updated
Attackers and hackers are always in search of vulnerabilities that can get them inside your website. When any new vulnerabilities are discovered by developers, they release new software updates. So quickly you need to update your website because you never know when the hackers hack your system and attack you.
7. Take Regular Backups
If you won an e-commerce store, it's your responsibility to take a backup of your e-commerce site frequently. Whenever any incident occurs, you can retrieve your website's backup from your hosting provider and restore your website. So, whenever you choose a hosting provider, make sure that it enables an automatic backup service in case you forget to do it manually.
8. Make Sure Your Website is PCI DSS Compliant
As an admin, you must ensure that your site is PCI DSS compliant. PCI DSS is a security standard that increases admin control of customer card data in order to protect your credit card data and reduce fraud. Your website will be able to detect and prevent potential breaches and hacks before it leads to an account data compromise (ADC) event.
Wrapping Up!
If a user or customer purchases a product through your e-commerce website, it means they've trust on you to protect their information. And it's your responsibility to uphold their trust and ensure to provide a secure shopping experience.
Security is not free, but it's cheaper than getting hacked. Precisely, you will not find an accurate solution to make an e-commerce site sound and secure. Instead, you will find several ways to secure your e-commerce site:
Periodically update and fortify your passwords.
Continuously monitor database and website activity.
Ensure all software is kept up to date.
Minimize the sharing of sensitive information.
Enforce HTTPS across your entire site.
Utilize security plugins and incorporate an Address Verification System (AVS).
Regularly back up your data.
Thoroughly assess and test the security of your website.
If you want to make sure your WordPress website is as safe as it can be, better connect with the best e-commerce development company.